Josh Katzowitz and Andy Benoit resume their debate, this time taking a look at the top five outside linebackers (who play in a 3-4 scheme) in the NFL.
Andy Benoit's top five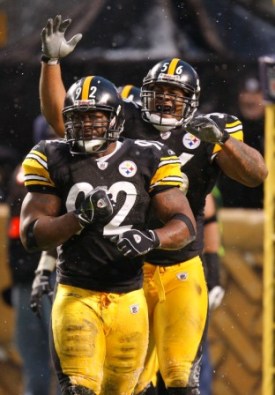 5. Elvis Dumervil, Broncos

4. LaMarr Woodley, Steelers

3. Terrell Suggs, Ravens

2. James Harrison, Steelers

1. DeMarcus Ware, Cowboys
Sacks have put a bright spotlight on the 3-4 outside linebacker position. Everyone on this list can rush the passer. What differentiates stars and superstars is versatility.
Dumervil, the NFL sack leader in '09, is too small to be a force against the run, but his frenetic energy often makes up the difference. By the end of this season, Woodley might claim the No. 1 ranking. The fourth-year pro is beastly in traffic – he has some of the thickest thighs and biceps you'll EVER see – and fluid enough to defend the flats in coverage.
Suggs is on the list not because he's a handful as a pass-rusher, but because he's the best playside run-defender in the NFL. James Harrison scares people – even those who are watching at home. He's very smart, too. Ware had a somewhat quiet season in '09, but that was due to a fluky slow start as much as anything. He's still the best all-around 3-4 front seven playmaker in the game.
Josh Katzowitz's top five



5. Manny Lawson, 49ers

4. Elvis Dumervil, Broncos

3. DeMarcus Ware, Cowboys

2. LaMarr Woodley, Steelers

1. James Harrison, Steelers
Oh, to be a quarterback facing the Steelers when James Harrison and LaMarr Woodley are healthy and gunning for your throat. Oh, to be a running back who must rush into the teeth of the Steelers defense. Oh, to have to fear for your career. Consider the two have combined 51 sacks during the past two seasons, and it's easy to see why Pittsburgh was ranked No. 1 in the AFC vs. the run last year while finishing with an AFC-high 47 sacks. How do you rank them? I say Harrison is No. 1 because he's been doing it longer, and because so much of an opponent's attention is focused on stopping him, Woodley can get away with blitzing. But I agree – Woodley might eventually be the best of the entire bunch.
Ware had an amazing 2008, recording 20 sacks, 84 tackles and six forced fumbles. Fighting through an injury, he wasn't nearly as good last season, but he rebounded a bit in the second half. Although he had a huge year last season, you wonder if Dumervil can replicate his success. Lawson doesn't record many sacks, but he's good in coverage and he tackles consistently.
The one issue I have with Andy's list is Terrell Suggs. I wonder if he lives off his reputation more than anything else. He came into last season nearly 20 pounds overweight, and it blunted his explosiveness. He lost playing time, and he completed his worst season since his 2003 rookie season. Not good since he signed a contract before the beginning of the season that made him the highest-paid linebacker in history. Unfortunately for Baltimore, he didn't play like it.
Andy's Rebuttal
A lot of Suggs' brilliance doesn't show up in the stat book. I have some reservations about Dumervil, but not enough to overshadow all the memories I have of him attacking offensive tackles with perfect leverage last season.
But whatever, let's get to the shocking part of your list: MANNY LAWSON?! If this were Bottom 5, maybe. Lawson is very fluid in coverage. I'll give you that. But he's not physical in traffic, and he's a modest pass-rushing threat at best. If
Ahmad Brooks
had even a slightly-below-average football IQ, he'd be starting ahead of Lawson in San Francisco.
Josh's final word
Ha, I thought you might like my addition of Lawson. But bottom five? Man, that's harsh. That's like me sarcastically writing about how Suggs is so brilliant. Oh wait, you were serious about that? Fact is, Lawson's the best OLB at dropping into coverage of anybody on our list, he plays the run very well, and he does, in fact, get to the opposing quarterback. Even without great technique, he was credited with hitting the quarterback 11 times last year; he just doesn't record many sacks. And considering last year was his first season in the 3-4, he's only going to get better (it should be noted he had four sacks in the final seven games of the year). Yeah, Lawson isn't the sexiest OLB out there, but he's more than solid.
Andy, not knowing when to quit
Josh, Lawson is indeed fantastic at dropping into coverage. I'm surprised he didn't make your top five cornerbacks list.
Josh's final, final word
In lieu of making any more arguments about this position, let me point you in the direction of what a wise man said last March. "I wasn't happy about the way I played last season, it was a disappointing year. My focus in the offseason is to make sure that never happens again. … No one was more disappointed about my season than me." Who said that? Oh right, those were the brilliant words of Suggs. In effect, Suggs thinks your list is pretty weak.
(
Other positions:
Safety
|
Cornerback
)
--Josh Katzowitz and Andy Benoit
For more NFL news, rumors and analysis, follow @cbssportsnfl on Twitter.