Amazingly, before today, JaMarcus Russell apparently had NOT hit rock bottom. The Mobile Press Register is reporting that Russell, arguably the biggest bust in NFL history, was arrested for possession of a controlled substance Monday. From the Press Register: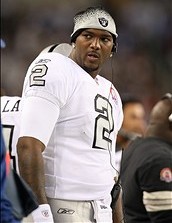 The substance was codeine syrup, (Mobile County Sheriff's Office) spokeswoman Lori Myles said.
Myles said Russell was arrested at his home early this afternoon during an undercover investigation. He was booked into Mobile Metro Jail at 4:22 p.m. Russell was released minutes later after making $2,500 bail, according to online records.
Russell is scheduled to appear in court on July 20. A bond hearing is set for July 7.
Codeine is the purple drink made famous by rapper Lil Wane. It's the same substance Packers defensive end Johnny Jolly was busted for.

--Andy Benoit

For more NFL news, rumors and analysis, follow @cbssportsnfl on Twitter.

UPDATE: A league source tells Pro Football Talk that Russell's arrest could impact the grievanace filed against him by the Raiders:

If, as the source explained, the contract contains language voiding future guaranteed base salaries in the wake of a suspension (a tactic upheld in a grievance resolved last year against running back Larry Johnson by the Chiefs) and if the NFL suspends Russell if his codeine-possession charges result in a conviction, a guilty plea, or a plea of no contest, the Raiders would be able to argue that the guaranteed base salaries have voided -- and that any advances provided to Russell on those voided guarantees can be recovered.