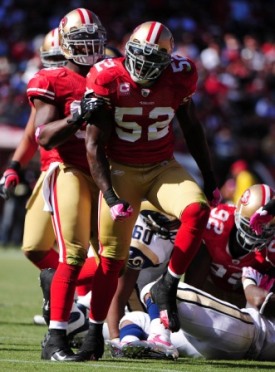 Josh Katzowitz and Andy Benoit resume their debate, with today's focus on inside linebackers.
Josh Katzowitz's top five



5. Jonathan Vilma, Saints

4. London Fletcher, Redskins

3. Ray Lewis, Ravens

2. Brian Urlacher, Bears

1. Patrick Willis, 49ers
Unlike our 3-4 and 4-3 outside linebackers list – which, frankly, weren't easy to put together, because there just aren't many stars at those positions – we've hit a motherload of talent at the inside linebackers spot.
Willis seems pretty clear cut to me. He has the phenomenal statistics, he's proven he can play the run and the pass equally well, and he's still only 25. He's going to be a dominant linebacker years into the future. It's hard to believe Urlacher has been in the league since 2000. His 2008 season was unimpressive (by his standards), and he didn't play most of last year. But is he still a top-two ILB? Yes.
Lewis is still very, very good. But he's lost a step, and he's not quite as feared by offensive coordinators as he once was. Notice the "not quite." He can still rush a passer, and he still clogs up the middle of the Ravens defense, but he's not a machine anymore and he has a tougher time in pass coverage. Though Fletcher is 35, he's coming off one of his better seasons and he finally made his first Pro Bowl last year. Vilma racks up the statistics, in part because he's easily the best LB on the team. But without him, the Saints might not have won the Super Bowl.
Andy Benoit's top five



5. DeMeco Ryans, Texans

4. London Fletcher, Redskins

3. Ray Lewis, Ravens

2. Brian Urlacher, Bears

1. Patrick Willis, 49ers
I figure our editors wouldn't appreciate me responding to your top five with a simple "ditto," but what more can be said? I'd love to debate you about Urlacher – I'm sure more than a few readers will disagree with us – but I think his instincts are second to none. I've heard of a few players around the league privately criticizing Urlacher's toughness – word is he'd would rather side-step a lead blocker than attack him square on – but I simply haven't seen that on film.
I have no problem with Vilma being top five. I chose to go with Ryans because I thought he finally made more tackles near the line of scrimmage last season. Of course, I realize Ryans had better players around him and didn't lead his defense to the postseason.
What's most impressive about Willis is the way he's improved in coverage. That was a weakness for him as a rookie. He also made more big plays in the backfield last year.
Fletcher and Lewis are machines. It's remarkable the way they make their teammates better.
Since we're in agreement here, want to expand to top eight? My next three ILB's are: 6.
Jerod Mayo
(struggled with injuries last season but was, in my opinion, the best inside linebacker in all of football as a rookie in '08) 7.
Bart Scott
(arguably the most versatile inside 'backer in the game) and 8.
David Harris
(a thumper against the run). I'd put Vilma at 10, though again, tell me he's five and you won't get a very passionate debate.
Josh's rebuttal
I really don't see how one can argue at this point that Urlacher is better than Willis. Urlacher is on the downside while Willis continues to climb. The only question I have: will Willis consistently reach the level at which Ray Lewis has played for so many years as one of the best middle linebackers of all time? Time will tell. I accept your top eight challenge. 6. Ryans (I like him too, especially because his physical tools aren't that great – he's not big, and he's not all that fast. He just makes plays). 7.
Barrett Ruud
(he disrupts plays in the middle of the field and has consecutive 135-plus tackle seasons). No. 8
Curtis Lofton
(He has a chance to be a star, and the foundation for the
Falcons
defense. He hits hard and does well vs. the run and the pass.) I'll reserve judgment for Mayo until after this season, but I agree that he's a top-10 guy.
Andy's final word
Okay good, we'll get a debate here after all. I'm sick of everyone cramming Barrett Ruud down our throats. Ruud is nothing more than an average player (and I hesitate to even honor him with
that
distinction). He isn't physical at the point of contact, he lacks ideal speed and agility, and his instincts are good but not great. I don't understand how the middle linebacker for the league's worst run defense (Tampa Bay allowed 158.2 yards per game on the ground last year) can get so much love. Yes, Ruud makes tackles, but most of them are miles downfield. There's a reason the Bucs haven't given him a long-term contract.
Feel free to argue back (we got away with going past the "final word" in the 3-4 outside linebackers debate, we can push the envelope again). I'm curious what kind of specifics a Ruud supporter can drum up.

Josh's rebuttal to the final word
Your criticism of Ruud not doing much more than tackling runners downfield is not a new one. Ruud hears it as well. From a recent
St. Petersburg Times
story: "I read that I make all of my tackles seven yards downfield. But a lot of times, a tackle seven yards downfield is a great tackle, because you can keep a guy from going 60 yards. When I evaluate the great linebackers of the NFL, I see a lot of guys making tackles seven yards down the field. They're making a great play when a guy looks like he's about to break it outside.''
You might say that's a cop-out, but he tells the truth there. Sometimes, it's not about making the fabulous play that will get you on a highlight show. Sometimes, it's about stopping the other guy from doing so.
The argument of not giving him a long-term deal holds no water with me, because of the impending lockout and the fact that hardly anybody is getting long-term deals this year. And now that the
Buccaneers
have made a commitment to their defense by drafting DT
Gerald McCoy
and
Brian Price
, that only will help Ruud – who, as I said, does a nice job causing havoc in the middle of the field even without the help of a defensive line who can disrupt a play up front. Plus, coach Raheem Morris calls him "The General." That's a pretty sweet nickname.
Andy's final, final word
If Ruud is "The General", he's a lot more McChrystal than Petraeus. The Bucs denied Ruud's contract request last year, even though they were well under the salary cap and focusing on securing young building blocks. Sure, a tackle downfield is certainly better than no tackle at all. But the reality is this topic never comes up with the Ray Lewis's, Brian Urlachers, Patrick Willis's and perhaps even James Farriors of the world. Again, the Buc run defense that Ruud spearheaded last season ranked dead last.
(
Other positions:
Safety
|
Cornerback
|
3-4 Scheme Outside Linebacker
|
Punter
|
Kicker
|
4-3 Scheme Outside Linebacker
)
--Josh Katzowitz and Andy Benoit
For more NFL news, rumors and analysis, follow @cbssportsnfl on Twitter.