Josh Katzowitz and Andy Benoit resume their debate, with today's focus on offensive tackles.

Josh Katzowitz's top five

5. Jon Stinchcomb, Saints

4. Jake Long, Dolphins

3. D'Brickashaw Ferguson, Jets

2. Ryan Clady, Broncos

1. Joe Thomas, Browns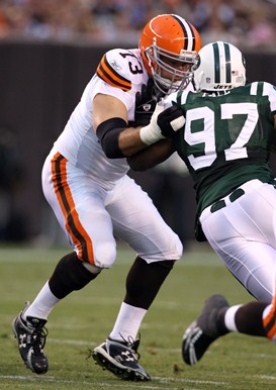 This is the first top five list for offense we've done, and naturally, we start with, other than quarterback, perhaps the most important position on the field. We speak, of course, of the offensive tackle (specifically, left tackle, but on this list, we won't discriminate against anybody playing on the right side). Tackles have finally been recognized for their importance, as teams are doling out huge contracts to pay the men who protect the quarterback.

Thomas is as quick a left tackle as you'll find. He's an outstanding run-blocker who uses his mobility to turn away onrushing defenders. Quite simply, he might be the best offensive linemen in all of football.

Clady gave up 0.5 sacks in his rookie season in 2008, which is pretty amazing. He took a small step back last season, but his blend of athleticism is impressive. He's coming off a serious April knee injury, though (tore his patella tendon playing basketball). The Jets obviously think highly of Ferguson, considering he was the first of New York's "core four" to sign a contract extension. He's becoming more of a complete player – especially with his run-blocking during the past two seasons. Long doesn't always do so well against the speediest pass-rushers in the league, and there were times last season when Miami's coaches had to give him help in protection. Still, he's made two Pro bowls in his first two years in the NFL.

And because I have to get a right tackle in there, I went with Stinchcomb. I think the Jets' Damien Woody and Tennessee's David Stewart were pretty good candidates, but Stinchcomb allowed only three sacks on more than 1,000 snaps last season (he allowed only one sack in about the same number of snaps the season before). Plus, he grades out as one of the better run-blockers in the league. Hmm, I wonder what Andy will think of my Stinchcomb selection.

Andy's top five list

5. Michael Roos, Titans

4. Jared Gaither, Ravens

3. Jake Long, Dolphins

2. Ryan Clady, Broncos

1. Joe Thomas, Browns

If putting Stinchcomb on your list is meant as a joke, that's funny. If you're being serious, that's even funnier. Stinchcomb is a grizzled mauler in the run game, but he's a liability in pass protection. He surrenders few sacks because Drew Brees takes few sacks. Stinchcomb is maybe a top five right tackle. But for tackles overall? He's not even top 25.

People hardly notice Roos because he's so steady and fundamentally sound that he never stands out on TV. His long arms are a major asset. I hesitate to put Gaither here because I hear so many gripes about his attitude and work ethic. But in the end, his raw talent is second to none, and he's improved his technique and awareness every year in his young career. We'll see how he does on the right side this season.

Long has lived up to his No. 1 overall draft status thus far. He gets out of his stance quicker than any blocker in the game. Clady is the most athletic offensive lineman in the NFL. Thomas, however, was a tad more consistent in 2010. He can get out in front and even change directions as a run-blocker, plus pass protection comes easy to him.

I like Ferguson – he's my No. 6 (or No. 5 if Gaither has another screw-up).

Josh, I was glad to see you didn't follow the mindless herds that think Jason Peters or Bryant McKinnie are elite players. Both guys are paid like elite players, but both are below average left tackles. That's right – below average. Talent-wise, they're amazing. But output-wise, they're unforgivably inconsistent. Peters has shoddy technique and McKinnie is soft.

You mentioned that tackle is a position getting its due. It's true – too true, in fact. Because of Michael Lewis's The Blind Side, left tackle has become the chic position. It makes a person feel smart to talk about how important the left tackle is. In reality, the best teams in recent years have not had the best left tackles. Not even close, in fact. The most obvious example? The Saints and Colts both had atrocious left tackles last season (Jermon Bushrod and Charlie Johnson). And look at the guys on our lists. How many are from playoff teams?

Josh's rebuttal

It's funny you bring up The Blind Side; neither of us picked the subject of that book, Michael Oher. I've talked to a few offensive tackles – none of whom are on my top five list – who basically scoffed at Oher's play. They believe the only reason people know Oher is because of the movie. I'm glad to see you didn't put him on your list either.

I agree that Stinchcomb is not one of the five best tackles in the league overall. But, unlike you, I felt it was necessary to put a right tackle on the list (Gaither doesn't count, because he hasn't played there before). Sure, a left tackle might be the most important spot on the offensive line – if you want your quarterback to finish the season with his head still attached to his shoulders – but without a good right tackle, a quarterback will still feel the brunt of many sacks. (He'll just see them coming instead.) In regards to right tackles, Stinchcomb is the best (with the possible exception of the injured Willie Colon). His Pro Bowl selection means that somebody agrees with me.

As for Roos, I'm not sure he's the best tackle on his team, much less the league.
Andy's final word

I'm not going to bother arguing about who's better between the polished Roos and gritty Stewart (by the way, gritty = euphemism for "unathletic and unrefined"). I will, however, respond to your righteous attitude about right tackles. I didn't get the memo from our editors saying we had to compromise the integrity of our lists simply to acknowledge the best guys from the inferior tackle position.

I'm not a right tackle hater – I'll even rank my top three: 1. Damien Woody, Jets; 2. Ryan Diem, Colts; 3. Ryan Harris, Broncos. I would have had Oher at two if not for his move to the left (those offensive tackles who criticized Oher are speaking out of jealousy). If Jammal Brown is as good in Washington as expected, he'll overtake Woody. After all, Brown is so gifted that he's spent most of his career playing the premium left side position.


Other positions: Safety | Cornerback | 3-4 Scheme Outside Linebacker | Punter | Kicker | 4-3 Scheme Outside Linebacker | Inside Linebacker | Defensive Tackle | Defensive End)


--Josh Katzowitz and Andy Benoit

For more NFL news, rumors and analysis, follow @cbssportsnfl on Twitter.