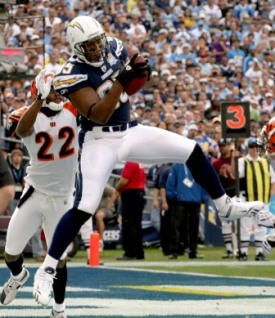 Josh Katzowitz and Andy Benoit resume their debate, with today's focus on tight ends.
Josh Katzowitz's top five



5. Vernon Davis, 49ers

4. Dallas Clark, Colts

3. Jason Witten, Cowboys

2. Antonio Gates, Chargers

1. Tony Gonzalez, Falcons

To pick a top-five list of tight ends, you can go the easy route or you can get it right. It'd be easy to sit back, click on last year's receiving stats and pick the tight ends who had the most catches and/or touchdowns. But it's not just about pass-catching ability. You also have to block the defensive end, linebacker or blitzing safety. Duality is important. You can make a lot of money catching passes as a TE, but that doesn't mean you're necessarily top-five in my eyes.
Gonzalez isn't only top-five currently; he's top-five all time. Heck, he might be No. 1 all-time, and even though he's 34, he's found new life with the Falcons. He's been catching and blocking well since 1997.
Gates has grown into his TE role. He's 6-foot-4 and 260 pounds – who can defend him? Not a linebacker – he's too fast for him. Not a safety – he's too big for him. Who then? Defenders have to hope that maybe the plantar fasciitis from which Gates is suffering will slow him.
I really like Witten. He blocks well in the run game, he catches a higher percentage of the passes that are thrown to him than just about any other tight end and he's made the Pro Bowl six years running. Dallas Clark had 100 receptions last year. That's just impressive. Vernon Davis has great blocking skills to go with his '09 78-catch, 13-touchdown season. The No. 5 spot was between him and
Kellen Winslow
, but ultimately, I like Davis' consistency just a little more.
Andy Benoit's top five



5. Dallas Clark, Colts

4. Owen Daniels, Texans

3. Vernon Davis, 49ers

2. Tony Gonzalez, Falcons

1. Antonio Gates, Chargers
Tight end is one of the most difficult positions to rank. We're basically in agreement on Gates and Gonzalez. Gates might be the greatest mismatch exploiter in the NFL. And you're right about Gonzalez's blocking. Vernon Davis is a monster athlete. He's not the most natural all-around receiver – changing direction as a route runner and tracking off-target passes can challenge him at times – but he is far and away the best seams weapon in the sport. Mike Singletary has called Davis the best blocking tight end he's seen. That's a little hyperbolized, but only a little.
Most people will think I'm a joke for leaving Witten off. To be honest, I feel like a joke. But Clark is a lynchpin in arguably the best offense in football, and I can't have a top five list without Daniels. He has become the best pass-catching tight end in football. Privately, I've heard a few well-known, universally-respected NFL analysts say he is THE best tight end – period. He is coming off major knee surgery, though.
I'm going to give you a prediction: by this time next year, every intelligent football observer will have
Packers
tight end
Jermichael Finley
No. 1 on their list. Finley is Gates with more size and athleticism.
Josh's rebuttal
So, you'll see my
Bobbie Williams
, my Jon Stinchcomb and my
Manny Lawson
, and you'll raise me a Jason Witten. A bold move, my friend. Obviously, I don't agree with you excluding Witten – at the very, very least, I'd pick him over Clark – but I don't think you're a joke. Maybe a pun that isn't very funny, but not a joke. Honestly, I think Daniels is a sturdy pass-catcher, but his blocking is too much of a factor (or a non-factor) for me to consider him a top-five guy.
Andy's final word
I'm fine with criticism of Daniels's blocking, but in Houston's system, it really doesn't matter. Since we're on the topic, I'll take this opportunity to give props to
Broncos
veteran
Daniel Graham
, who is far and away the best blocking tight end in the NFL. And Kellen Winslow, who Josh mentioned earlier, is the league's best route-running tight end.
To anyone out there who feels the urge to say "Hey! What about
Brent Celek
?!" or "Hey! Aren't you forgetting
Visanthe Shiancoe
!?", save it. Both players are classic examples of guys who benefit from having stars around them. Celek gets to operate against linebackers on just about every snap, and Shiancoe is primarily
Brett Favre
's dumpoff option.
I've also noticed that Steeler fans are particularly sensitive about
Heath Miller
. Yes, Miller has soft hands and he's incredibly sound fundamentally, but he's also the fourth option in Pittsburgh's offense. Just to finish things off, don't try to sell
Chris Cooley
, either. Josh and I both put a better version of Cooley on our list, called Dallas Clark.
--Josh Katzowitz and Andy Benoit
For more NFL news, rumors and analysis, follow @cbssportsnfl on Twitter.