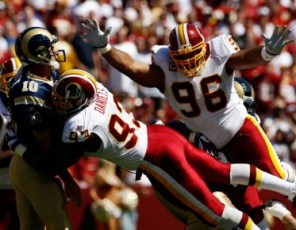 When QB
Marc Bulger
spoke Thursday about his last three years in St. Louis, a weariness crept into his voice. Like he couldn't believe what he went through as he quarterbacked the
Rams
to a 5-30 record as the starter from 2007-09.
Of course, Bulger – who signed with the
Ravens
last month, passed his physical this week and spoke with reporters on a conference call today – is a two-time Pro Bowler who's thrown for nearly 23,000 yards and 122 touchdowns in his eight-year career. The fact St. Louis was so terrible with him as the quarterback these past three years obviously weighs heavy on his soul.
"I'm interested in football again," Bulger said. "The last three years, they've been difficult out here. It just seemed like it was a job. We won five games here in the last three years, and it affects the whole building. To get a new atmosphere where you're talking about trying to win a Super Bowl is exciting."
Bulger is under no illusions. He knows
Joe Flacco
is the entrenched starting QB in Baltimore. He'll wait to see how much advice Flacco might want from his new backup, but Bulger doesn't see a problem with his new role.
"I've been starting for seven-plus years," Bulger said. "It will be different role. It was clear to me up front that it would be my role there. Throughout this whole process, I was talking to teams where there were chances to be a starter and others where I had a chance to compete and obviously here as a backup. I understand that I'm coming in here as that, and however capacity I can help, I'll do it."
As long as he can help the Ravens, he'll be pleased.
"Part of me wants to be a starter obviously. But if we're winning games and if we're headed to the playoffs, I'll be just as happy as if I was the starter. Going through the last three years, it's something I've never experienced. I'm upset I was a part of it. I just want to win games."
--Josh Katzowitz
For more NFL news, rumors and analysis, follow @cbssportsnfl on Twitter.