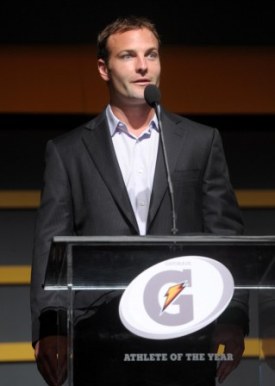 (Quickly: Hello there, I'm Will Brinson and I'm new here. And while I'll be hanging around a lot, I thought that, rather than having me go through some introduction and telling you how excited I am and whatnot, you'd just as soon read an interview with Wes Welker instead? Sounds good. Excellent.)
Wes Welker has a rollercoaster of a resume: he's gone from the Gatorade Oklahoma Football Player of the Year, to being unsigned until a week after National Signing Day, to setting Texas Tech records while he was in Lubbock, to going undrafted, to getting waived by the
Chargers
, to becoming one of the most dangerous wide receivers in football as a member of the New England
Patriots
.
Of course, Welker suffered a nasty injury in Week 17 vs. the
Texans
last year, forcing him to spend his entire offseason rehabbing his knee. CBSSports.com was at the 2010 Gatorade High School Athlete of the Year Awards in Los Angeles Wednesday, where Welker was an honored guest, and we had a chance to catch up with him to talk about how far along he is with the injury.
1.
CBS Sports: How's the knee, man?
Wes Welker: It's going good. Kind of trucking along, each day, and trying to get better and just get back after it.
2.
CBS: Originally, everyone was saying you'd miss a pretty good amount of time, like the first six weeks or so, and now there are rumors that you've been running around pretty well on the field. Think you'll be ready by the beginning of the season?
WW: I don't know, honestly. It's still a long ways off and I feel like I still have a long ways to go, so I can't really set a time table on it. But when it's ready, that's when I'm going to make the jump and see how it is.
CBS: Do you take extra precaution on the time since your game is so predicated on quick cuts?

WW: Yeah, I think you do, especially with this kind of injury. You want to make sure you're ready to go and stay on top of things. It's easy to do things in a controlled environment, but when you get out on the field it's a little bit different. So you've got to make sure not only is your knee ready for that, but your mind is ready for that as well.
3.
CBS: Alright, there's been some mild controversy chatter about Tom Brady being out on the West Coast a lot, doing the family thing, instead of really being the "first-in, last-out" guy that he usually was during the preseason. Is that an issue with the team at all
?
WW: I don't think so. I don't really see it being a problem. Tom is still the first guy in, last guy out. Just because he's on the West Coast doesn't mean he's working any less. The guy's the hardest worker you'll ever be around – it's always "one more throw" with him, he's always trying to see what else he can get in. So I don't really see it being a problem or anything like that. Tom's going to come and bring his game no matter what he has to do, and, he's fully going to support his teammates just like we're going to fully support him.
4.
CBS: Cool deal. Let's talk about the AFC East this year, because it's getting pretty tough pretty fast. The Dolphins landed Brandon Marshall, the Jets are improved, so how do you approach this year looking at your division? Is it any different than years past?
WW: Absolutely, man. We have a lot of talent in our division, a lot of good teams. It's going to be tough to even win the division, much less win a game. It's definitely going to be a tough year and we're definitely going to have to take those games very seriously and make sure we're bringing it, because the Jets made a lot of great moves, along with the Dolphins. And the
Bills
have a new coach, so there's a new mindset around there. So you gotta make sure you're bringing it every day and staying on the same level with those guys, because they have a lot of great players and there are going to be some teams to reckon with.
5.
CBS: Alright, you weren't the national Gatorade Player of the Year, but you did win the Oklahoma player of the year. How crazy is it to see what they're doing here?
WW: Yeah, it's pretty wild. I guess they trick some of the kids into thinking they've been nominated or whatever and come to their school and tell them they need to shoot a video and then spring it on them.
And it's funny, them telling the story, and I was like, "Yeah, well, I opened up the USA Today and there's this two-page, long deal and I scanned down to find Oklahoma and over here on the middle right corner and there's 'Football' and 'Wes Welker'" …
CBS: And then you just gave your dad a high five over breakfast, or something, right?

WW: [Laughing] Yeah, yeah, exactly, man. I didn't realize you get to travel out to Los Angeles and hang out at the ESPY? It's pretty crazy stuff.
To read the Five questions (or more) with
Harvey Unga
, click
here
.
--Will Brinson
For more NFL news, rumors and analysis, follow @cbssportsnfl on Twitter.