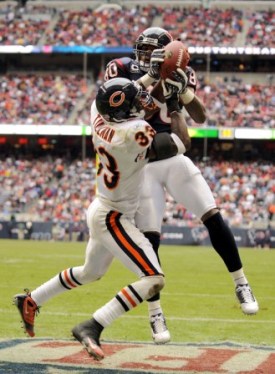 Josh Katzowitz and Andy Benoit resume their debate, with today's focus on wide receivers.
Andy Benoit's top five



5. Brandon Marshall, Dolphins

4. Calvin Johnson, Lions

3. Larry Fitzgerald, Cardinals

2. Reggie Wayne, Colts

1. Andre Johnson, Texans
I wish we could do top 10 receivers – this position is flooded with talent. A lot of times, a receivers' success depends on the system he's in. For example,
Miles Austin
, with his fluidity and speed, produces like a top five receiver in Dallas's catch-and-run offense. But could he succeed in a downfield "power-throwing" offense like Vincent Jackson does in San Diego? Probably not.
As you can see, I like receivers with freakish athleticism and size. These five guys can dominate in any system. Shuffle Fitzgerald, Wayne and Andre Johnson in any order you want – just don't drop Wayne from the Top 3 and tell me it's because he plays with
Peyton Manning
. Wayne might be themost fundamentally-sound player in the entire NFL.
Calvin Johnson hasn't done anything yet, but that's only because he's stuck in Detroit. He's at least 125 percent as gifted as anyone on this list.
I'm willing to have just about any discussion that pertains to the best receiver in the game – just as long as you don't try to sell me
Randy Moss
. As a deep threat, Moss is the best ever. As an all-around receiver (route running, blocking, reading coverages, etc.), he's average.
Josh Katzowitz's top five



5. Calvin Johnson, Lions

4. Wes Welker, Patriots

3. Reggie Wayne, Colts

2. Larry Fitzgerald, Cardinals

1. Andre Johnson, Texans
I agree with everything you said about Johnson. He's the best WR out there today. He seemingly has it all. He runs great routes, he can make the tough catches in traffic, and he has great athleticism.
Fitzgerald has recorded 25 touchdown catches the past two years, more than any other receiver. Plus, his dad is a sportswriter – which bodes pretty well for my children. I like him just a little bit better than Wayne, who's more experienced but not quite as athletic and who, like you said, has the benefit of catching balls from one of the greatest quarterbacks in NFL history. But I agree with the top-three – which, truth be told, is hard to argue against.
I've got to go with Welker at No. 4. He has sneaky speed, he can read any defense, and his yards-after-contact numbers are extraordinary. Will he be the same receiver after his knee problems? Well, we won't know that until the regular season begins, but for now, Welker is a top-five guy. I'm interested to hear your take on Welker, Andy. I dropped Johnson to No. 5, because he flubs too many catches.
I thought hard about putting San Diego's (for now) Vincent Jackson on the list. He has a very high yards-per-catch average, and he's a very good blocker. But with the three-game suspension and the fact he might hold out for much of the season, I just couldn't pull the trigger. I also thought about
Sidney Rice
, but one season doesn't make a career. Where do you stand with those guys?
Andy's rebuttal
I have no problem with Welker being top five. The numbers are there – 346 catches for 3,368 yards over the last three seasons – and there isn't a little thing he doesn't do right. Welker is the sustaining element of New England's offense. I left him off my list because he's essentially confined to the slot.
Jackson might be the best deep threat in the NFL right now. And while I'm on numbers, I'll mention that 58 of Jackson's 68 receptions last season resulted in a first down. Of everyone you mentioned, Josh, Rice is the only player I never considered. He had a great '09 campaign, but given his (albeit short) track record, I need to see him do it at least once more.
Josh, you surprised everyone by not taking a principled stand and including a "solid, scrappy (read: white)" backup receiver like
Mike Furrey
or
Austin Collie
on your list. Since this made our lists virtually identical, how about we do the top three wide receiver duos in the NFL? But let's put a wrinkle in it: top three duos, but no member of the duos can be on our top five list (i.e. no Moss-Welker, Wayne-Garcon or Johnson-Walter). Here's what I have:
1.
Donald Driver
–
Greg Jennings
,
Packers
. Perfect fits for Green Bay's quick-slanting system.
2. Vincent Jackson – Malcolm Floyd,
Chargers
. Their size and speed creates nightmares for defensive coordinators and allows
Antonio Gates
to work against safeties and linebackers.
3.
DeSean Jackson
–
Jeremy Maclin
,
Eagles
. Jackson is fast becoming the best big-play weapon in the game. Maclin, in only his second season, could soon emerge as another version of Jackson.
Josh's final word
Jeez, Andy, you make it sound like I put backups on my top five lists. Hey, I wasn't the one who put
Chad Greenway
on my 4-3 outside linebackers list. That was you.
I'll play your game, though.
1. Driver – Jennings, Packers. You're absolutely right about these guys, Andy. Driver has been really good for many years, and though neither of these guys are top 10 by themselves, they help make
Aaron Rodgers
look really good.
2. Sidney Rice –
Percy Harvin
,
Vikings
. These guys are young – 23 and 22, respectively – and with
Brett Favre
throwing passes their way probably for the next … oh, say … five or 10 years (psst, he's
never
going to retire), the Minnesota offense will continue to be very dangerous.
3. Jackson - Floyd, Chargers. We've talked about Jackson, but Floyd was solid last year after the Chargers waived
Chris Chambers
. He obviously needs to score more touchdowns - he only had one last season - but his 6-foot-5 stature will continue to grab the attention of QB
Philip Rivers
.
Other positions:
Safety
|
Cornerback
|
3-4 Scheme Outside Linebacker
|
Punter
|
Kicker
|
4-3 Scheme Outside Linebacker
|
Inside Linebacker
|
Defensive Tackle
|
Defensive End
|
Offensive Tackle
|
Center
|
Offensive Guard
|
Tight End
)
--Josh Katzowitz and Andy Benoit
For more NFL news, rumors and analysis, follow @cbssportsnfl on Twitter.