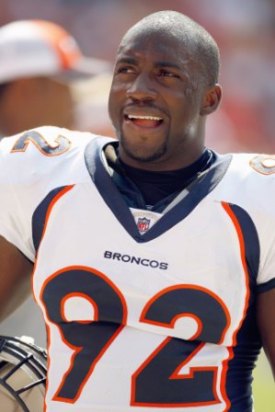 The numbers have come in on Denver LB
Elvis Dumervil
's new contract extension, and considering he was slated to make about $3.1 million this season, it's quite a jump.
The
Denver Post
writes that on top of the $3.168 million salary Dumervil will earn this year, the team added a five-year, $58.332 million extension. That equals six years and $61.5 for last year's sack leader.
According to two Post sources, $43.168 million of that extension is guaranteed against injury, an NFL record.
"Money is not everything, and that's the way I was brought up," Dumervil told the newspaper. "It's nice when you get it, don't get me wrong, but I was always taught that you get what you put into it. And as long as you conduct yourself as such, good things will happen for you."
It's actually a pretty extraordinary move by the
Broncos
. Considering all the turmoil that could occur next year with a potential lockout looming, Denver didn't have to give him so much money. The Broncos could have stuck him with a franchise tag – which, while still costly, means it would only have to pay him that much money in the short-term, keeping them from having to make such a big-money, long-term commitment to him now.
But, as the Post points out, perhaps the team needed to make a statement, especially after it's jettisoned off so many players since coach Josh McDaniels – who coincidentally is our subject of
"Five questions or more"
today on the blog – took over the team.
How will this new contract affect him on the field?
From the Post's story:

Now that Dumervil has received his new contract, don't be surprised if his sack totals go down while his value soars. Dumervil figures to become a marked man by opposing offenses this season with teams making sure a second blocker — whether a tight end, pulling guard or running back — is on him.

As Dumervil draws double teams on passing downs, it will be imperative for other Broncos such as Robert Ayers to develop as rushers.

"It's going to be tough but a lot of teams passed on me before the Broncos selected me with the 126th pick," Dumervil said. "I'm wanting to show these other teams what they missed out on. I'm obsessed with that. I feel bitter about those decisions. Now I want to prove to other teams that the Broncos were right in wanting to reward me by extending me."
It'll be tough – real tough – for Dumervil to reach his 17-sack quota from last year. And not just because of the money he's making. New contract or no new contract, he would have faced more double teams and chipping blockers anyway this season.
But Dumervil also said he can get his sack total back to double digits. For the Broncos sake, he'd better.
--Josh Katzowitz
For more NFL news, rumors and analysis, follow @cbssportsnfl on Twitter and subscribe to our RSS Feed .