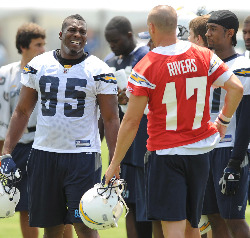 Let's be perfectly clear on one thing:
LaDainian Tomlinson
is a future Hall of Famer, a class-act of a football player (and a person), and -- most importantly to this subject matter -- he helped make the San Diego
Chargers
a dominant franchise of the 2000's.
However, in reading what is
a fantastic piece by Kevin Acee of the San Diego Union-Tribune
, one gets a very clear sense that Tomlinson's veteran/legend status was something that made many of the other players -- including equally high profile players like
Philip Rivers
and
Antonio Gates
-- on the Chargers' roster uncomfortable.
"I don't know how everyone feels or if they felt it," said Rivers, who answers questions about Tomlinson the way someone walks through a minefield. "Maybe it was a little bit of a relief. Maybe it's a feeling of, 'I can do a little more without wondering what he thinks.' "
"Sometimes you would get the sense that people felt bigger than the team," Gates said. "Not to say it was an issue, but we know it's not an issue for sure now."
Acee makes it very clear that his story is not "about the Chargers being better off without Tomlinson" but instead about a locker room "metamorphosis" that wasn't happening with LT on the roster.
And really, I recommend reading the entire thing; not just because I'm an unabashed Rivers homer (I am), but because of the candor that comes through from some of the quotes, including this relative bombshell from the former NC State product:
"That got real touchy the last 18 months," Rivers said.
Specifically, he's referring to Tomlinson's unhappiness at his reduced role in the Bolts' offense. But the full assessment of the quotes show that it wasn't just on the field where Tomlinson had drifted behind Rivers -- it was the locker room too. Apparently, playing in the AFC Championship Game without a freaking ACL (and you'll recall, LT was on the sideline for that one) will garner some respect from your teammates.
And that's why it's Phil Rivers' team now, and probably for a long time down the road.
-- Will Brinson
For more NFL news, rumors and analysis, follow @cbssportsnfl on Twitter and subscribe to our RSS Feed.