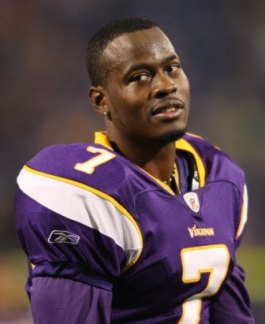 If, as is being reported all over the place (and on the
Facts & Rumors
blog), Brett Favre does retire – and there's some healthy skepticism that he will, no matter what he says – what happens with the
Vikings
offense?
Obviously, they've still got some of the best young wide receivers in the game with
Sidney Rice
and
Percy Harvin
. WR
Bernard Berrian
is solid and dangerous as a deep threat. Those guys will make a mediocre quarterback look better than he actually is. And running backs? Two words:
Adrian Peterson
. Meanwhile, second-round pick
Toby Gerhart
–
Chester Taylor
's replacement – is a Doak Walker Award winner who will take a few of Peterson's carries, especially when Minnesota needs a physical inside runner.
At the skill positions, there's no question the Vikings have the talent to win the NFC championship. The quarterback position is … well ... a different story.
If Favre retires, they'll have a couple problem areas. First, Minnesota doesn't have the greatest run-blocking offensive line – which is a bit surprising, considering the talent the team has on this unit – and without Favre, the Vikings will need to run the ball more effectively to make up for the lack of Favre-ian like talent at the signal-caller position (more on this below).
Favre, at least in my opinion, is still a
top-five quarterback
, especially considering the season he had last year (68.4 completion percentage, 4,200 yards, 33 touchdowns, seven interceptions), and Minnesota would lose one of the most important players in the game.
So, who would replace him? Most likely, it'd be
Tarvaris Jackson
– an athletic quarterback who hasn't figured out how to become a successful NFL quarterback. He started 12 games in 2007, and though the Vikings went 8-4, he wasn't particularly impressive. His accuracy was mediocre, and his decision-making was questionable. If you're comparing him to Favre, Jackson is more mobile but not nearly as strong in every other facet in the game.
If not Jackson, the team could turn to
Sage Rosenfels
. He's never been a full-time starter, and there's a pretty good reason for that. In fact, if Favre stays, Rosenfels might be on his way out of town, depending on how rookie
Joe Webb
is performing in practice.
Rosenfels is often too aggressive, leading to too many avoidable interceptions. He's the prototypical backup. He doesn't look bad on the sidelines while wearing a ballcap. But if you have to throw him in as the starter, that's not a great thing for your team. Webb, meanwhile, was slated to be a wide receiver, but he's played well enough in practice for the Vikings to keep him with the quarterbacks. At this point, though, you certainly don't want Webb starting games for your team.
If Favre doesn't return, like he's apparently saying right now, the Vikings wouldn't face a disaster if Jackson was their man. But if it's Rosenfels or Webb, there's no way this team can make a deep run into the playoffs. For their sake, the Vikings have to hope this latest Favre news isn't true. Otherwise, their Super Bowl hopes have just taken a huge hit.
--Josh Katzowitz
For more NFL news, rumors and analysis, follow @cbssportsnfl on Twitter and subscribe to our RSS Feed .