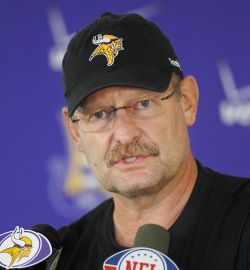 Posted by Will Brinson
More specifically, when Brad Childress took the podium at
Vikings
training camp, he discussed Brett Favre's
REPORTED (can't stress that enough) retirement
. Childress was clearly aware of the reports circulating today, even if he said otherwise and had no technical knowledge of Favre's decision.
"I'm not aware of any of those reports, obviously," the Vikings coach said. "I've been out here for the last three hours or so. But if or when the case is he does something one way or the other, I'm sure he'll communicate with me, I'm sure of that."
Clearly, Favre
didn't
communicate directly to Childress (although Minnesota's coach did say that he had "talked to [Favre] in the last 24 hours"), given the news that the reports from the media stemmed from teammates, but Childress seemed surprised at the notion that Favre would use other channels.
"Brett and I communicate ... So I don't suppose he'd call
Jared Allen
and have Jared pass the word to me -- that's not going to happen. I'll talk to him one way or the other."
Childress acknowledged, however, that it was entirely possible Favre could decide to hang up his cleats, since, after all, he is aging.
"He's a 40 year old man. He's just got to come to grips with it. He, his wife, kids, a lot of meetings with himself. He talks to people, he talks to teammates, so everyone of those are influences, but the guy who looks you back in the mirror is the one you have to answer to."
A key point that the media will focus on (and this is me doing it) is that Childress doesn't think Favre's potential retirement would be detrimental to the team, or, more specifically, the quarterback situation.
"I feel great about it. We got four, five good days of work here. People want to know "What's plan B?" Well, it's those guys and they've done a nice job in camp."
That's obviously a stretch --
the Vikings would take a substantial hit if they were forced to use
Tavaris Jackson as the starter for Week 1. But even if Jackson starts the season opener against the
Saints
, Childress didn't rule out the possibility of Favre joining the team after their bye in Week 4.
"Those are kind of "if-then" hypotheses ... We're day-to-day right here."
Overall, Childress handled the slew of fully-Favre-related questions well (or as well as anyone could given the circumstances). At one point, he even joked, "I feel like this is Watergate. Have I done something wrong? Am I own trial?"
That elicited plenty of laughter from media in the room, but the reality is, it's not entirely all that humorous -- Childress' job is wholly dependent on his team's performance. And while with or without Favre, the Vikings will still be a good football team, it's obvious that they won't be the same if he retires.
Although, as Childress pointed out, that's never a sure thing until you "hear it from the horse's mouth."
For more NFL news, rumors and analysis, follow

@cbssportsnfl

on Twitter

and subscribe to our

RSS Feed

.