THIS is why the Buffalo Bills haven't reached the playoffs since 1999. The Associated Press is reporting that the Bills have officially released defensive end/outside linebacker Aaron Schobel. The Bills grew tired of Schobel's waffling on retirement. Instead of staying patient, they took a hard stance and went public with their intentions to move on without the veteran.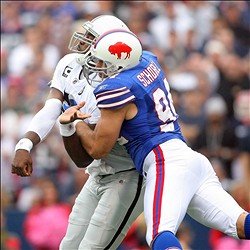 This was foolish both on the surface (Buffalo desperately needs Schobel's pass-rushing prowess), and beneath it (had they not spoken publicly, the Bills likely could have traded Schobel for at least a late-to-mid-round pick). Now, Schobel is a free agent. If he doesn't wind up in Houston (his current hometown), he could wind up in New England, where he'd aid a thin Patriots pass-rush and, oh yeah, face the Bills twice in 2010.

"If he chooses to retire, he will do so as a Buffalo Bill," Bills GM Buddy Nix said. "This move allows him the opportunity to play somewhere else if he so choses. And we felt that was a fair thing to do for a guy who has played hard for us the past nine seasons."

It's possible Schobel told the Bills he'd only play in 2010 if it were for another team. But if that's the case, why wouldn't Buffalo call his bluff? Why would they potentially strengthen another AFC team like that?

--Andy Benoit

For more NFL news, rumors and analysis, follow @cbssportsnfl on Twitter and subscribe to our RSS Feed .