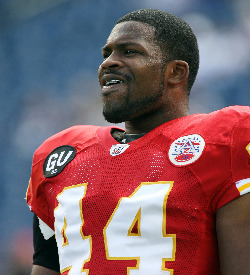 Posted by Will Brinson
Jarrad Page
is currently a restricted free agent with a unsigned tender offer from the
Chiefs
sitting out there, waiting for him. But given the recent comments from Page's agency, Front Page Sports Management, it seems pretty unlikely you'll see him in a KC uniform any time soon.
According to the Kansas City Star
, FPSM sent the following email to a KC-area radio station (amongst other media outlets), detailing issues that the agency and its client have with the franchise.
"Beginning in the Pre-Season and continuing all year," the e-mail read, "Coach Todd Haley mishandled Jarrad last season causing him to end up on IR. … There has been (trade) interest for Jarrad and the Chiefs are blocking legitimate trades. There's been plenty of time to get a trade done and at this point, in our opinion, it's clear that the Chiefs are being Vindictive."
Those are pretty aggressive claims, obviously (even more aggressive is the
Star
's use of the word "negligence," which is, legally speaking, quite stout verbiage).
The Chiefs' "blocking legitimate trades" isn't necessarily a concern: after all, what would be the precise context needed for a trade to be considered "legitimate"? Perhaps the Chiefs view Page as irreplaceable and not worth whatever's been hypothetically offered. In that case, the legitimacy of the trade would be 100% worthless.
Far more serious is the possibility that Haley "mishandled" Page. If it's at all possible to prove that in a court of law that Haley is indeed responsible for Page going on IR (and I, along with plenty of lawyers, probably have some doubts about that), then the Chiefs should at least be a little bit nervous.
As it is right now, though, it seems like a public relations ploy designed to get Page out of KC.
For more NFL news, rumors and analysis, follow @cbssportsnfl on Twitter and subscribe to our RSS Feed .