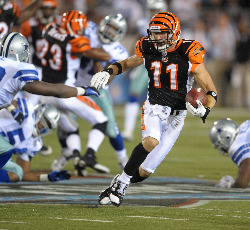 Posted by Will Brinson
Football is underway. That means two things: 1) we can all breathe a collective sigh of relief and 2) it's time for immediate snap judgments!
Sure, firing out winners and losers for one little football game that featured only two teams may seem a bit extreme, but, look, this is all the NFL action we've got right now, okay? So we're gonna break it down.
Winners
Doug Free
-- He's was the most talked about player on the
Cowboys
this offseason (somehow). And he showed exactly why the Cowboys had faith enough in him to let
Flozell Adams
go. Granted, it was just one serious, but he looked strong, agile and acc-ur-ate, if I may quote Ben Wallace. Given
Alex Barron
's struggles and the injury he suffered on Sunday night, there's no reason to think Free's job is in trouble.
Jordan Shipley
-- The rookie out of Texas managed to make two catches for 17 yards, which is pretty impressive when
J.T. O'Sullivan
and
Jordan Palmer
are throwing the ball. But he made his biggest impression when he made a sick 63-yard punt return to setup Cincy for their only touchdown of the game. Consider that not only is
Carson Palmer
being very vocal for Shipley but that
Antonio Bryant
is injured, and it's entirely possible we see Shipley getting a lot of action in the slot early in the season. He would do quite well there.
Tashard Choice
-- Choice's "job" (read: third-string running back) is necessarily in jeopardy. But the better he performs, the more action he'll get during the regular season. And that's not even counting when the oft-injured
Felix Jones
eventually goes down, which he will. Choice piled up 41 yards on just seven attempts and looked vastly better than any other running back on the field outside of this guy ...
Marion Barber
-- He didn't do anything -- two runs, one for five yards and one for two yards -- really special. But it's what he
didn't
do (fumble in the red zone) that separates him from Jones. And considering that many people felt like Felix could take over the starting role this year, well, that's a good thing.
Terrell Owens
-- There's nothing special about two catches for 18 yards, but the good news for the prima donna is that it looks like the
Bengals
are willing to cater to him. Either that or it was just all fun and games spending the offense's first quarter targeting him at every opportunity. For Owens' part, he really did nothing wrong outside of he and
Chad Ochocinco
's eye-rolling Batman/Robin interview before the game. Also, he signed autographs for fans during the entire second half.
Losers
Felix Jones -- See above. If you're trying to steal carries during a season in which you bulked up to make yourself a better "between-the-tackles" back, do NOT fumble the ball on your first red zone carry of the season. There are only so many opps that Jones will get in the preseason to prove he carry the ball there before Wade Phillips just hands Barber the rock every time.
Alex Barron -- He got injured and blew any shot he had of getting the upgrade to left tackle.
Brian Leonard
-- He's not exactly a fantasy monster or anything, but Leonard became a fan favorite (I think anyway -- I was rooting for him) after beating out "better" players for a roster spot during last season's
Hard Knocks
. Now the report is that his ankle injury "doesn't look good," which, obviously, is not good. I'll make the frowny face if Leonard is down for an extended period of time.
Dez Bryant
-- His status isn't exactly getting crushed, but it's really important to note that the Cowboys have plenty of weapons on their squad. Roy Williams showed some life,
Miles Austin
is clearly the No. 1,
Jason Witten
is there, etc., etc. All I'm saying is that anyone expecting a 2,000 yard season out of Bryant already might want to slow their role.
David Buehler
-- Three-for-four ain't a bad percentage, when you're talking about field goals. But he nearly missed his second one, and 2/4 would have people talking in hushed tones on Monday. He needs to crush it all preseason to keep his job on lockdown.
John Phillips
-- He's at the bottom only because he was balling so hard that he suffered an injury later in the game. Phillips ended up being the early star of the show, catching four balls for 60 yards (and the first two were on
horrible
Jon Kitna
passes, no less) and laying down some pretty sick blocks. He probably won't be seeing a ton of playing time because of Jason Witten and
Martellus Bennett
, but let's just hope the injury isn't too serious.
(Edit: Moved him to the "losers" section since it appears he tore his ACL . Ugh.)
Jordan Palmer/J.T. O'Sullivan -- If Carson Palmer doesn't stay healthy this year, things will not go well for the Bengals.
For more NFL news, rumors and analysis, follow

@cbssportsnfl

on Twitter and subscribe to our
RSS Feed
.