Posted by Will Brinson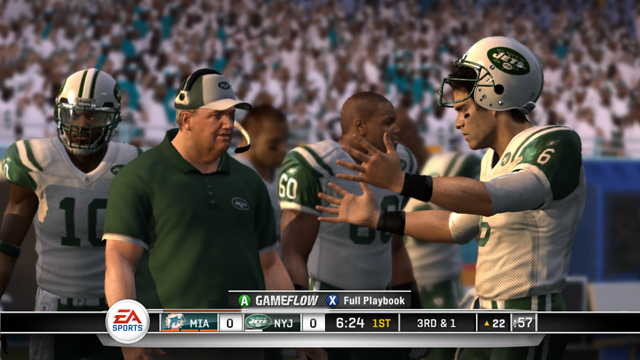 Real football debuted Sunday night as the Dallas Cowboys took down the Cincinnati Bengals. Virtual professional football debuts Tuesday as EA Sports Madden 11 hits stores. Here's a review.
Let's be clear: change usually isn't fun. Fortunately, while the newest version of the Madden franchise forces me to deal with change, it also does so within the context of yet another superior product from EA.
For instance, two excellent changes were built into online play in this rendition.
First, when someone "quits" against you online, you can choose to "quit and count" or "quit and don't count." In other words, when you're up 40 points at halftime, you can't get burnt by having to play the last 30 minutes against the computer in order to get the win.
The other is online team play. It's freaking awesome -- basically, you can get 2-6 people into a game, lock into certain positions (QB/RB/WR or DL/LB/DB) and talk over the headset with your "teammates" throughout the game.
Now, lots of people will debate whether playing online with six people is even logistically possible (some folks don't have headsets, a must for team play, and see above, re: quitters and bad connections). People will also debate whether the "D cam" -- in which you'll have to learn how to play defense from the opposite side of the field -- will really work.
(Ed. Note: BIG props to the EA Sports Gamechanger Devin "XxDaMole00xX" Peden for helping me out with the team stuff
--
you can read more about the Gamechangers here and get your team play community party thing on over at MaddenOTP.com as well . If you can find a Gamechanger online to play with you, I highly recommend it.)
Those are valid claims, but this is something that's been offered successfully on FIFA, and it's a very welcome addition to Madden as well.
The game itself (graphics, play, overall experience, etc), by the way, actually features some nice additions too.
One that stands out? GUS FREAKING JOHNSON. Madden fans have been drooling about the exciting announcer's inclusion in the new game for quite some time, and while it's almost impossible to encapsulate Gus' intensity in a simulated game, this puppy comes close.
The best line, off the top of my head?
Has to be "Look out for that SIDELINE SPEED!" which features Gus' voice rising (and firing) as a running back gets around the tackle and heads for the sideline with no one in site.
Cris Collinsworth is there too, although -- and though I can't be positive -- I'm pretty sure they reused a few of his lines from Madden 10. No matter, though. Gus makes up for it.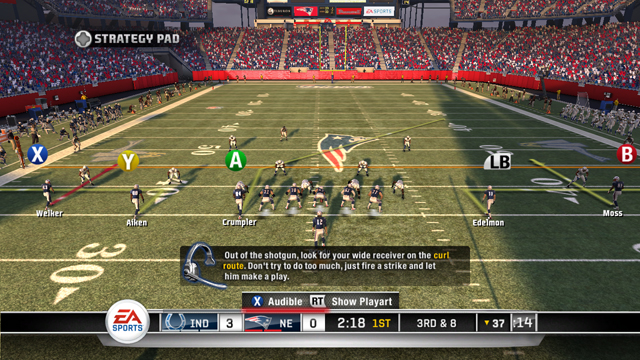 In terms of graphical gameplay, the newest rendition is a strong improvement over its younger siblings, although with any of these new renditions (regardless of sport) it's really, really difficult to make leaping and bounding improvements, if only because the quality of the previous version was so high already. That being said, Madden 11 is crisper and flows much more smoothly than last year's version -- all the players feel more fluid than they have in the past, and running with the ball in particular feels more lifelike.
"Locomotion" was the big addition this year; essentially, the right joystick gives players more juking/breaking tackles option, although the differences are much more noticeable in the NCAA game than on Madden.
One welcome addition to gameplay is a increased risk/reward to the "Hit Stick." Last year, it was practically magnetic -- if your player was within 10 yards of the ballcarrier and you jabbed the left stick towards him, you'd go flying and record a tackle 90 percent of the time. Now, that just results in a LOT of missed and/or broken tackles, but it also seems to result in more fumbles when you actually connect.
That means the "X" button is much more in play than before, but that's a good thing -- the hit stick almost replaced the tackle button in previous play and this is much more realistic. (Note that if you're used to playing with the Hit Stick and use it frequently when you test out Madden 11, you'll immediately wonder why EVERYONE breaks away from
Jon Beason
in the open field. Try using X.)
Additionally, the details are much improved: fans, players and stadiums seem more life-like than ever before. For instance: I actually complained that Brett Favre's beard wasn't gray enough. I mean, what does that even say about the details going on here?
Ease of use with some features will be a complaint early on from lots of gamers. Particularly with "Gameflow" and the "Stratpad." Gameflow is similar to NCAA 11's "No-Huddle," albeit with less initial success. It's the type of thing that will benefit gamers willing to put in the effort, but will likely annoy the very casual fan.
Basically, Gameflow allows you to change your personal offensive and defensive gameplanning -- under "My Madden" you add, remove and rate plays based on certain situations and your preference for calling them there -- so that while playing you can just hit the "A" button without having to dive into the actual playbook.
This makes a ton of sense from the perspective that not having to waste potentially valuable time scanning through piles of playbacks is difficult; it lacks sense in that anyone who knows exactly how to work their playbook doesn't need help quickly accessing plays. All that being said, though, I used the Gameflow a good amount … but didn't do my due diligence to put together my own profile at first. Later on, I went back and started putting it together, and it makes a tremendous difference -- if you're willing to spend time tweaking your profile, it'll end up being a very worthwhile addition. (I should note too that part of my disappointment stems from it not being the true "no-huddle" a la the NCAA version; I was looking forward to rolling with the
Colts
and calling plays at the line. Alas.)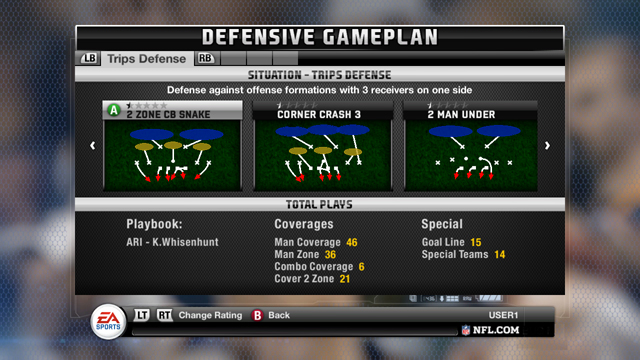 Also, the added bonus of it eliminating wasteful time used on selecting "Kickoff" and "Extra Point," "Field Goal" or "Punt" in obvious situations make it more than worth any hassle it might cause.
Part of the Gameflow addition is something totally different than ever seen in a video game: the inclusion of an offensive coordinator who provides advice via either pre-snap messages on the screen or the headset. I've used the headset to get the advice a couple times, and while I wish that my OC didn't sound like a sober Yankees fan, I throughly enjoyed having someone chatting in my ear for the first few quarters. Honestly, the bigger bonus is for less-skilled Madden players who can take a lot from the tips that the OC offers. In other words, it's not just an aesthetic development, as the game offers play-specific stuff like "take your five steps and wait for the wideout to get free of the coverage underneath" or "don't think about it, just take three steps and hit your receiver when he breaks."
Not all of the advice is great, or even necessary, but that comes with the territory -- overall, it's a very cool addition to the game and the "football experience."
"Strategy Pad" is an addition so villainous
that Pasta Padre asked in July
if it would be "the most reviled feature since the vision cone?"
Well, let me tell you ... I think it is.
From what I understand, there's some sort of patch coming for what's being called the "Strat Pad," but as it is right now, I hate it. It takes all of the many available audibles from last year (shifting your defensive lineman, shifting your linebackers, calling hot routes, bringing your safeties in, backing up your coverage, etc) and forces you to access them via the D-pad. Which means in order to fake a blitz (a simple combo of up and left last year if I recall correctly), you have to hit the D-pad, which opens up a new menu where you can choose up, left, down or right depending on what kind of audible you want to pull off.
Eventually, I won't hate this as much -- I've already found myself somewhat memorizing the various combinations (up, left, left shifts the d-line to the left … maybe) and after a slew of games it'll probably become second knowledge. But what's the point? It just adds an extra step, insofar as I can tell.
The audible-calling differences from Madden 10 aren't all bad, though. Big, BIG ups to the gameplay team for introducing a menu at the bottom of the screen which offers "Run," "Play-Action Pass," "Deep Pass" etc. When you hit the "X" button, you're given an option to scroll left and right on that menu, with the various play-art -- routes, etc. -- popping up for each play. This is huge for online play (not so much if you're playing a buddy in the same room, of course) and two-minute drills, especially if you don't set your audibles beforehand. Great addition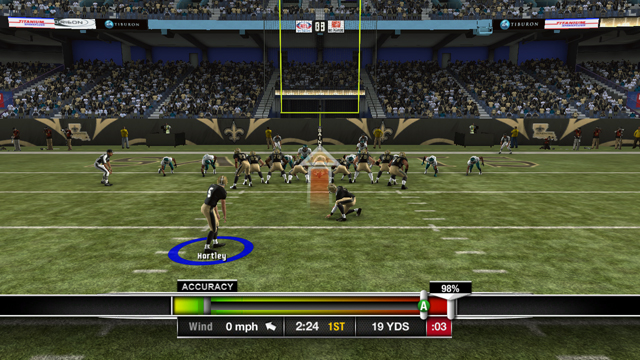 Last year, I thought that experience was heavily tainted by EA's decision to sell primetime advertising space on the game. Every other play, it felt like, I'd see a Snickers (or some other company) ad pop-up. That'd be fine if it didn't slow down the game or get in the way of my playbook, but it did both last year. This time around, the programmers and advertising guys wised up and figured out how to integrate advertising in the content more seamlessly.
For example, Gus Johnson will frequently remind you that certain things are, "As always, sponsored by Verizon. The OFFICIAL wireless provider of the NFL." And sometimes when you call a timeout, you'll hear the Old Spice jingle, coupled a shot of whoever was the "Old Spice Swagger Player of the Game."
But you know what? That's fine. In fact, I appreciate it, because it's freaking clever -- I like to think that I'm okay with advertising when it's done smartly and openly without being obnoxious. Madden 11 does that quite nicely.
Two more points on the special teams aspect of the gameplay: Kicking is TOTALLY different. The "round meter" (or whatever you want to call it) is out. In? A Mario Golf-style power meter that makes you tap it twice. See above. Complain all you want, but it takes all of like two games to get adjusted.
Kick returning is different too. In this year's game, it's a helluva lot tougher to take a kick back to the house. But that's a good thing -- last season was kind of ridiculous in the amount of terrible tackling you would see from the computer's special teams AI and house-bound returns.
The long and short (but mostly long in my case) of it is that things are different. Stuff is changed. Moreso than in years past when comparing the year-to-year differences. And that will throw lots of people off, just like any time a website is redesigned, or anytime
anything
that's comfortable changes.
But embracing the change is a worthwhile process -- as usual, the majority of the differences that EA implemented are positive ones, and that makes Madden 11 better than the previous iteration. It also makes it fun as hell to play, and if you're a fan of the NFL and spend any time on video games, you'd be pretty silly not to pick up a copy.




RATING: 4/5 Eye Logos