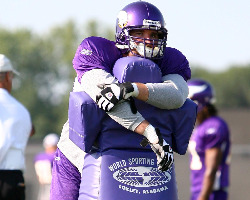 Posted by Will Brinson
Jared Allen
welcomed ESPN's Chris Mortensen into his own RV bus (spoiler: it's freaking awesome) on Thursday, in a segment that aired on
Sportscenter
. He also talked with Mort about Brett Favre and the looming
in
decision that will either give Tavaris Jackson a starting job or not.
"I do hope Brett comes back," Allen said. "But at this point, we're pushing towards the preseason, so a decision has to be made pretty quickly here. And just in fairness for us, for our team, for Tavaris, if Brett's gonna come back, we're done with camp, let's move forward. If not, we need a formal 'no' that way Tavaris has the opportunity to take this team over as his own, once that third preseason game comes. Because, as vets, that's kind of our earmark of 'we're ready to rock and roll."
Brad Childress' response was a little different, as he continued to not-so-directly point out that he would really, really like Favre to play.
"I stayed away from any artificial deadlines," said Brad Childress. "We're good with it if he plays. We're good with it if he doesn't play."
Childress, obviously, doesn't want to pressure Favre -- his job is a lot more dependent on No. 4 than Allen's is. But Allen makes a good point -- and presumably the other
Vikings
players are on board with his idea -- in that it's NOT fair for Favre to just sit back and wait and wait and wait some more before making a decision.
He can easily jump back into the offense and just do what he does -- Jackson's transition to a starting role is a much more difficult one, and he needs all the time he can to prepare.
For more NFL news, rumors and analysis, follow

@cbssportsnfl

on Twitter and subscribe to our
RSS Feed
.