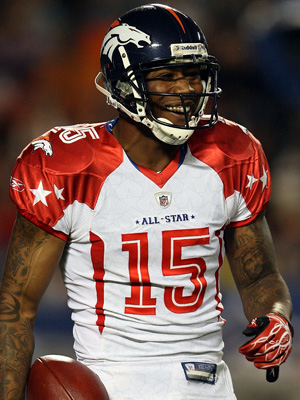 Posted by Will Brinson
That's the question NBA blogger Matt Moore (what, even the Panthers quarterback needs a hobby) and I set out to answer in a series of emails Thursday night when Brandon Marshall announced he was heading to the NBA if the NFL lockout actually occurs. These are those emails.
Brinson
: So, Brandon Marshall wants to play in the NBA when/if the NFL gets locked out. Unfortunately, there's not enough roster spots to go around for my NFL peeps to just make the jump (not to mention 75% of them couldn't make it in the L), but it kind of brings up an interesting question: which guys from the NFL could ball it up in the NBA?
I think at some point we've discussed crossing over the other way (Bron would be an epic tight end and Allen Iverson's high school tapes still make me drool) but who the hell is your first pick from the NFL pool if you're creating a basketball team? Or, alternately, could Marshall make it? At 6'4", 230 he at least has the body, if not the game.
Moore:
As I said in my post
(SYNERGY, BABY), he's got a combo-guard's body, but a small forward's skillset. Maybe with his soft hands and awareness, his handle would actually be pretty good. Wait, why does it sound like I'm building his Match.com profile? Anyway, his athleticism would transfer, and that's really the big determining factor. Athleticism is at a premium in the NBA. Work ethic and focus are much more important in the NFL, and that's why guys like
Wes Welker
likely wouldn't translate well. But Marshall is kind of an ideal candidate.
I'd be interested to see some of the taller, slimmer defensive ends at power forward and center. But even then, most would be too small.
Julius Peppers
is 6-7 and 283. That's small forward height with power forward weight. As a comparison, Josh Smith is 6-9 and 234. That weight differential is what would probably make the most awkward translation. Then again, most NBA players would likely be destroyed by the sheer physical nature of these guys.
Brinson:
I love that you thought of Wes Welker, who's barely taller than
me
. (Although, hey, Earl Watson, Muggsy and Spud made it ...) But you're right -- Marshall would be a good candidate to shift leagues.
As would Peppers, who, I'm sure you know, played ball at Carolina. So he's got a pedigree, not to mention being a freakish athlete. Size would be an issue, though: you almost never see NFL players even sniff the high end of six feet.
Also, think about guys like
Tony Gonzalez
or
Antonio Gates
(who also played basketball). Gates is 6'4", 260 and fast, which makes him an unbelievable tight end prospect. But in the NBA? He'd be a fat shooting guard. (Or, so Gates doesn't beat me up next time I see him, how about "stocky"?)
Moore:
I mean, that's really the issue. It's not a matter of the NBA guys being more athletic, it's that they're athletic at the things which make them good at basketball. How's that for some obvious analysis? Essentially, all those high flying catches you see in the NFL? That's an average NBA jump. That's "kind of trying for a rebound on the perimeter" in the NBA.
Now, the explosiveness would probably translate. The way tight ends, defensive linemen, linebackers, running backs, and receivers come out of their breaks? That would work well on the perimeter, provided they could dribble. Of course, they'd have to be able to finish at the rim, but then you'd think the hyper aggression might get them there.
Hey here's an idea.
Ray Lewis
versus Kevin Garnett. I know they're both past their primes, but think of the insanity on the floor.
Brinson:
Yeah, I'm pretty confident that Gates can dunk without any real issue, but he's not going to be going against six-foot-tall DBs when he's attacking the hoop or boxing out people on the block. Or as you put it "kind of trying for a rebound on the perimeter," a.k.a. a "Vince Carter Rebound."
Here's the other problem -- how many shots is Gates going to get off with J-Smoove guarding him? Like 10 out of every 20 with a lot fadeaways mixed in?
How about instead, we just bring Tractor Traylor out of retirement and have he and
Andre Smith
go NBA Jam style with Garnett and Ray-Ray? Fat AND crazy -- that's something I can get behind.
Moore:
Bringing it back home, if Marshall can shoot, then I think he could conceivably make a roster. I mean, how many guys at the end of a bench are there only for their athleticism? I think that the size differential between NFL (shorter and more muscle) and NBA (longer and lankier) means it's going to be difficult for anyone, but Marshall's receiver-to-combo-guard may be the model.
You know, if we can't get Tractor Traylor back.
Do you think Marshall could ball in the NBA? Let us know in the comments or on Twitter

@cbssportsnfl

and @cbssportsnba .