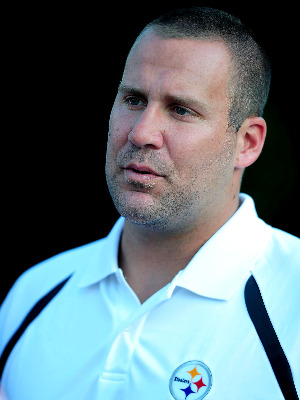 Posted by Will Brinson
There's a really bizarre AP story floating out on the wire from
Steelers
camp that involves a bit of a change on
Ben Roethlisberger
's bio. He's not pulling an Ochocinco or anything, but he is apparently swapping his hometown.
Originally from Findlay, Ohio,
Big Ben's now claiming that
he is from Corey-Rawson, Pennsylvania.
One problem: that's not a real place. There is, however, a Cory-Rawson school, which Roethlisberger attended at some point in his life.
Although, awkwardly, they don't list him under
"former students" on their Wikipedia page
; though we do learn that "austin michael and nathan ferguson are fire crotches that also attend cory-rawson" -- the lesson there is that you should ALWAYS trust in the certifiably of the Wiki.
The AP report speculates that the change was prompted by a bit of outrage from Findlay residents following his incident in Georgia, but that has yet to be confirmed.
PFT's Mike Florio has confirmed
, though, that Roethlisberger will indeed have his "hometown" and "birthplace" listed as the very much not-real Corey Rawson, Ohio." Additionally, Florio points out that R-Berger, unlike other players,
has no hometown listed
on the Steelers website.
Seemingly, it
is
a slight at his hometown folk, but the question of "why?" remains. There are already multiple reports about this (you're reading one!) circulating, so it's clear that Ben's decision will generate some publicity.
That's just what happens when you're a high profile quarterback in the NFL -- if you're one who's trying to overcome significant, reputation-damaging allegations and a six-game suspension, why on Earth would you go out of your way to cheese anyone else off?
Because from my vantage point, it makes less sense than being from a town that doesn't exist.
For more NFL news, rumors and analysis, follow

@cbssportsnfl

on Twitter and subscribe to our
RSS Feed
.