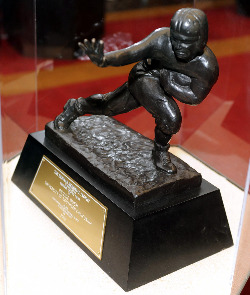 Posted by Will Brinson
A 'series of mistakes' is actually the phrase
Reggie Bush
used when he apologized to new USC athletic director Pat Haden, but you get the point -- Reggie did some bad stuff, it's all come to light, USC got in trouble and everyone involved is being contrite.
That's the simple explanation, anyway. The full quotage is a little different,
as Bush also told USA Today
(
via our friend John Taylor at College Football Talk
) that he'd love to return the Heisman trophy he won ... if he only could.
"He's really contrite," Haden says of Bush. "He knows he made a series of mistakes. It wasn't just one mistake. It was a series of mistakes.
"He told me, 'If I could turn the clock back, I would. If I could give the Heisman Trophy back, I would."
Um, now, I don't own a Heisman Trophy, so I can't be 100 percent sure about its ability to be transported, but if I had to make a guess, I'd lob out the possibility that Bush could either a) mail that puppy back or b) taking it back to its home via his personal automobile.
Or even c) pay someone to drive it for him. Whatever, the point is that if Bush is saying he'd LOVE to return the Heisman but just can't, well, that's wrong. Of course he can.
The only thing he's not allowed to do, according to Haden, is step on USC campus. But that doesn't prevent him from tossing that stiff-arm in the mail and sending it back to the Heisman Trust.
For more NFL news, rumors and analysis, follow

@cbssportsnfl

on Twitter and subscribe to our
RSS Feed
.