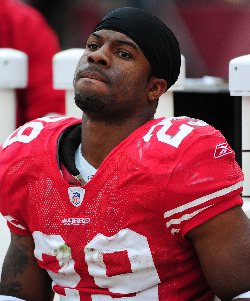 Posted by Will Brinson
Glen Coffee
,
according to our
49ers
Rapid Reporter Michael Erler , missed Thursday afternoon practice and was a no-show for Friday morning's session as well.
The reason for Coffee's absence was unknown, until Friday afternoon (yes, it's the 13th) when the youngster out of Alabama announced his sudden and shocking retirement.
Matt Maiocco of Bay Area CSN first reported the news on Twitter, stating simply that "Coffee announces retirement" before following up with an update in which coach Mike Singletary apparently said that "Coffee's retirement decision came out of the blue."
That's understating it -- Coffee was born in 1987, which doesn't exactly put him in the same age bracket as Brett Favre,
John Kasay
, or any of the other elderly NFL players.
So, needless to say, this news is, as Erler put it, "shocking."
In fact, it was about a year ago that I was pretty excited to draft Coffee in fantasy football leagues -- if
Frank Gore
went down, it stood to reason that he could be a sleeper for any team's bench. Thinking that he's out of the league now is nothing short of mindboggling.
There's a distinct possibility that Coffee is dealing with some sort of personal (thinking emotional here, perhaps?) issues -- that's 100 percent speculation on my part, but if anyone has a better explanation for why a 23-year-old would simply up and retire from the game of football just before the season started, I'm all ears.
And yes, "lacking the desire to play football" would theoretically fit into that "better explanation" mold, but even that still qualifies as a personal and emotional issue: it's seems unlikely that he woke up this morning and made a calm, rationale decision to never play football again.
Update (3:12):
Coffee issued the following statement about his retirement: "
This has been a tough decision for me, but at this time in my life I feel it's best for me that I move on from football. I appreciate what the 49ers, my teammates and coaches have done for me, and I wish them a blessed season and all the best in the future.
"
Update (4:13):
Some quotes from Mike Singletary, who said that he appreciated Coffee telling him the news face-to-face.
"His demeanor was, 'I really hate to lay this on you, coach. But since college, my heart just hasn't been in it. As a matter of fact, I came out early because my heart wasn't in it,' Singletary said. "All I asked him was, 'Are you sure? Have you really thought about this?' He said, 'Yes, I have. I thought about it for a long time."
Singletary also said he was "sad" that Coffee quit because Coffee is an "exceptional young man."
Kudos to those of you in the comments who mentioned "heart not in it" as a reason for Singletary to quit -- turns out you were spot on. (I still stand by the notion that "heart not in it" is an emotional/mental/personal issue though.)
Stay tuned to the 49ers' Rapid Reports
and
follow us on Twitter
for more updates as they come in.
For more NFL news, rumors and analysis, follow

@cbssportsnfl

on Twitter and subscribe to our
RSS Feed
.