Posted by Andy Benoit

The Steelers aren't saying which quarterback will take the field with the first unit in Saturday's preseason opener against Detroit. Preseason subterfuge – gotta love it.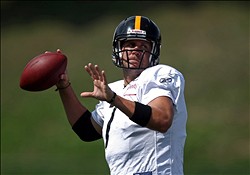 That's fine. More interesting will be what kind of reception Ben Roethlisberger gets. He's been treated well by fans at training camp, but it takes more brass for a fan to jeer a man in the more-intimate camp setting (where fans are often in bleachers seats and closer to the players). Put fans in stadium seats, away from the action, next to their buddies and always within 30 yards of a beer, and their behavior changes.

Expect Tomlin to start Roethlisberger against the Lions if for no other reason than, by starting Big Ben, Tomlin minimizes the oomph of a potentially-distracting story. Think about it. If Roethlisberger gets booed, the national media will ask what that means for the Steelers' morale, their role in the community, etc. If Roethlisberger gets cheered, the national media will ask how in the world a suspended womanizer can get so much love (and from a "blue collar" town, no less!).

But by having Roethlisberger take the field with the starters, the boos are more likely to get drowned out by cheers for the 10 other Steelers. Or, the cheers for Roethlisberger can be attributed as cheers for the whole team. Boos or cheers, either way, a distracting story gets watered down or avoided outright.

For more NFL news, rumors and analysis, follow @cbssportsnfl on Twitter and subscribe to our RSS Feed .