Posted by Andy Benoit

Normally, there is little reason to care when a receiver like Javon Walker works out for a team. Once a star, Walker was an injury-riddled non-factor during his two years in Oakland and is now out of the league. Friday, the 32-year-old worked out for the Minnesota
Vikings
(so did
49ers
castoff Brandon Jones).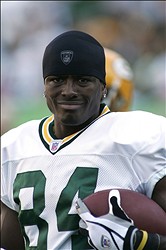 So why do we care? Because this gives us a chance to rehash the Walker-Brett Favre drama from around a half-decade ago. You may recall, Walker had a 1,382-yard, 12-touchdown season for the
Packers
in 2004. He held out of minicamp in 2005, which drew the ire of Favre.
"If Javon wants to know what the quarterback thinks, and I would think he might, I'd tell him he's going about this the wrong way. When his agent tells him not to worry about what his teammates think and all that stuff, I'd tell him I've been around a long time and that stuff will come back to haunt you."
Walker decided to play that year but suffered a career-alerting knee injury in Week 1. Favre's comments stung, and ultimately Walker forced his way out of town. ESPN's Mike Sando republished an excerpt from an
old story from Michael Smith
on the matter:
Favre offended Walker when he spoke out against the receiver in his contract dispute, saying he should come to training camp and not hold out. (Walker heeded the advice.) Walker believes Favre's comments made living and working in Wisconsin difficult; Walker tells of one instance when he was in a hotel and an employee announced his presence on an Internet message board for "anyone who had something to say to Javon Walker." It also angered Walker that the team allowed its iconic quarterback to interfere publicly in a teammate's business with management. He held his tongue all year.

"There's an unwritten rule that players stick together," said Walker, still biting his tongue on Favre for the most part.
Now, Walker needs to play with Favre, as he has nowhere else to play. Will it happen? Probably not (Jones would be a much better signing). And if it does, Walker would likely be the No. 5 or 6 wideout anyway. But hey, at least we got a chance to relive one of the best quarterback-receiver drama stories in recent years, right?
For more NFL news, rumors and analysis, follow

@cbssportsnfl

on Twitter and subscribe to our RSS feed.