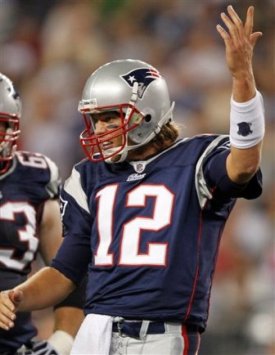 Posted by Josh Katzowitz
It sounds like
Tom Brady
is inching closer and closer to getting a new contract. We t
old you about it
earlier today, when a new contract (thought to be a three-year, $58 million extension) was said to be imminent.
Brady and the
Patriots
aren't quite there yet, but it's getting ever so close. In fact,
ESPN.com
is reporting this evening that a deal could be done before the regular season begins, though it'd likely be a four-year extension.
Aside from that, it's kind of wait and see for now.
So, I'll leave you with this, because it's too awesome not to go unnoticed.
Coach Bill Belichick was asked about the possible extension at his news conference today. Not surprisingly, he didn't have much to say. Just for my amusement (and for all the fans who say, "Yeah, Bill. Screw all those sports writers. Don't give them nothing," here's part of the transcript.
Q: There was some talk this morning that a possible contract extension was afoot for Tom Brady.

BB: I don't have anything to report on any contracts.

Q: I know I asked you this last week, but with the timing with everything, if any contract is going to happen with any player, does it behoove the team and the player to get it done before the season opener and not have anything extend into the season?

BB: You can use the same answer I used last week. If it's the same question I'd give you the same answer, how about that?

Q: When you first started coaching, it was not unusual for players to spend their entire career with one team, but now with free agency it's becoming less common. Would there be a certain pride for you or the team if Tom Brady were able to spend his entire career here?

BB: Right now, really our focus is on the Bengals. That's what we're working on. As far as a lot of future planning and contracts and all of that, I'm not really going to get into those now. Our focus is on the Bengals and that's where we're going to keep it.

Q: What does it mean for a team to have a quarterback like Brady, so consistent year after year? What does it do for an offense or a team to have his presence there?

BB: It's always good to have consistency on your team at every position and every unit. Certainly quarterback is in that category.
By the way, when I said "it's too awesome not to go unnoticed," I was being sarcastic.
For more NFL news, rumors and analysis, follow @cbssportsnfl on Twitter and subscribe to our RSS Feed .