Posted by Andy Benoit
1. The Bears are who we thought they were

For months we've been saying that Mike Martz's system won't work in Chicago. You can't ask those mediocre receivers to run slow-developing routes – they just won't get open consistently, we said. You can't expect that putrid offensive line to sustain blocks in pass protection long enough for Cutler to take regular seven-stop drops, we said. And Cutler – oh jeez – you can't ask Cutler to read the entire the field and take chances without making costly mistakes, it's just not in his DNA (we said).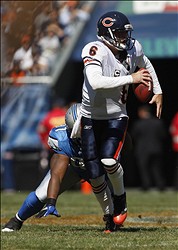 Well, after one game, it appears that we were…exactly right.

Sure, Chicago beat Detroit. But teams have beaten Detroit 30 times in just the past two years alone. And had Matthew Stafford not been knocked out prior to halftime, the outcome probably would have been different (the Lions, led by Shaun Hill, scored zero points in the second half). And let's not forget the controversial Calvin Johnson call at the end.

But all that's actually beside the point. When the Bears watch the film on Monday, they'll see an offensive line that gave up four sacks and put Cutler under continuous duress. (Heck, Lions journeyman defensive end Turk McBride – Turk McBride, for crying out loud! – looked like an All-Pro going up against Frank Omiyale in this game.) That same offensive line also failed to help its running backs punch in a go-ahead score late in the fourth quarter on four consecutive goal-to-go situations from the one-yard line.

One shudders to think what the Cowboys front seven will do to this group next week…
2. Safety first (if you're a fan of moronic decisions)

How much disdain must Chan Gailey have for his passing offense to make the ridiculous decision that he made late against the Miami Dolphins? Trailing by three and facing fourth-and-10 on their own one-yard line with under 2:00 to play and two timeouts, the Bills opted not to try to pick up the first down, but instead, to take a safety.

On the surface, taking a safety always seems smart. The reason for this is because it's such an unconventional move that there's no way it could ever be as dumb as it sounds (if you explained the concept of taking a safety to someone who never watches football, at some point you'd hear yourself say "and now we're going to give the other team two points." Give them two points? What? Why?) In this case, the move was as dumb as it sounds.

The Bills gained nothing in field position by taking the safety because, instead of playing for a field goal (which would mean reaching the 30-yard-line or so), they now had to play for a touchdown (which, Bills fans might not remember these days, would mean reaching the goal-line). Buffalo gave up all their timeouts just to get the ball back with 36 seconds to go at their own 20-yard-line (and had the Dolphins gotten a better punt on the play, the Bills could very well have ended up right back on their goal-line again).

By taking the safety, the Bills were essentially hoping for – nay, planning for – a miracle. Evidently Gailey thought it would take an even bigger miracle for Trent Edwards and those no-name receivers (no-names save for Lee Evans, that is) to gain 10 yards. If you have that little faith in your passing game, you're officially screwed.
3. Patriots D looks sharp

This was one of those games where the boxscore lies. The boxscore says that Chad Ochocinco caught 12 passes for 159 yards. It says Terrell Owens caught seven passes for 53 yards. (Batman and Robin? More like ROBIN and batman.) The stars may have put up good numbers, but the truth is, the Patriots secondary outplayed the Bengals' receivers – especially early on, when Cincy wasn't throwing out of desperation and the Patriots weren't protecting a huge lead.

New starting defensive backs Devin McCourty and Patrick Chung were both outstanding. McCourty, the first-round rookie corner whom some are saying is already the best defensive back on the roster, stifled Owens on several deep balls in the first half. Chung led the team with 16 tackles, many of them vicious hits.

Phil Simms made an excellent point about this young Patriots defense: it's faster. A lot faster. The Patriots have prioritized speed in recent drafts (except for the selection of linebacker Brandon Spikes, who had to have a sex tape leaked in order to make people forget about something even more embarrassing: his 40-time). On Sunday, that speed translated into more big plays.

Note: In a follow-up to that last parenthetical jab at Spikes, it's only fair to mention that the second-round rookie was very solid in his starting debut at inside linebacker.
4. Devin Hester no longer a star return artist

Back in 2006 and 2007 when we said Devin Hester had already had a legendary career's worth of touchdown returns, we didn't mean Hester should call it a career for touchdown returns. But do you realize Hester has not returned a punt for a score in three years?

Sunday was a sobering example of how far Hester has fallen (by the way, his fall ironically coincides with his promotion to a starting receiver role). Six times, the Lions punted from backed up in their own end zone. On the day, Hester had five punt return opportunities – most of them on line-drive balls he caught in the middle of the field. His total return yards? 17. Three years ago, in a game like this, he would have had 17 touchdowns (don't worry about the math – he would have found a way; Hester was supernatural back then.)

There's no reason Hester can't recapture his magic – he's only 27. But seriously, what's going on here?
5. Running backs relevant…sorta

It's a passing league these days. Bu, like all you misguided fantasy players who don't realize that your fantasy football scoring system is flawed, we're going to give the running backs some love.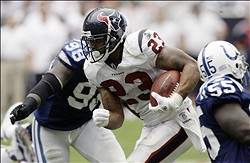 For the youngsters, it will have to be tough love. The two electrifyingly speedy first-round rookie runners who were supposed to transform their respective offenses failed to get the wheels turning Sunday. C.J. Spiller ran the ball seven times for six yards against the Dolphins. The only part of Spiller that looked truly fast was his mind, which seemed to be spinning out of control at times. He was unusually hesitant on contact.

In Detroit (and can you believe we've now fit three Lions-Bears bits in this entire piece?) Jahvid Best got 14 carries but amassed only 20 yards. At least Best found the end zone two times.

No need to worry about either young runner at this point – it's only one week, after all. They'll get better.

On to the love…

There's especially no need to worry about the runners in the AFC South. Maurice Jones-Drew gained a hearty 98 yards on 23 carries against the Broncos. Facing a speedy but diminutive Colts run defense that has decided it will be porous again this year, Arian Foster, I think, became the NFL's first 1,000-yard rusher in 2010. (By the way, Colts fans, no need to worry about your team's run D– last time the Colts were this bad was 2006, when their SUPER BOWL CHAMPION defense ranked 32nd against the run.) Finally, in Tennessee, Chris Johnson posted 142 yards on 27 carries, which, unfortunately, means he's behind pace for his ridiculous goal of 2,500 yards rushing on the season.

Most important of all, the teams of these three running backs all won, creating a huge log-jam atop the AFC South.
6. A star is born

There is a new star in the broadcasting world, and his name is Jim Mora Jr. Thank God Jim Mora Sr.'s son never lead the Seahawks to the PLAYOFFS?! Now we get to listen to Mora call games with Dick Stockton and Charles Davis on Fox each week.

Mora made his television debut in the Falcons-Steelers game. He was extremely intelligent and, for a man ostensibly looking to get back into coaching, he was shockingly blunt. Mora's best line came during a rant about his friend Bruce Arians calling a pass late in the fourth quarter on second-and-five before the two minute warning. "That play-call was a tragedy", More said. If you get a chance, tune into a Mora game. You'll be enlightened and entertained.
7. Redskins don't win…Cowboys lose

The nice thing about fumbling away seven points on a meaningless play to end the first half is that it is such a huge mistake that no other mistake you make can possibly feel that bad. No matter what, as mistakes go, you simply can't top that one. Though credit the Cowboys for trying. Specifically, credit Alex Barron. The former first-round pick showed everyone why he landed in Dallas in the first place. Barron wracked up multiple penalties in the second half, including the game-loser on the final play. After the clock struck 0:00, Cris Colinsworth cleverly shared a "get well soon" wish for Marc Colombo.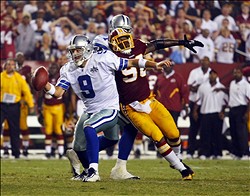 It's too bad we're highlighting Barron's mistakes because the man was not utterly awful the entire game. Of course, the Cowboys clearly didn't trust their makeshift front five to begin with. Virtually every pass Tony Romo threw came off a three-step drop. There was a litany of one-step drop throws (until the final two minutes, some people probably wondered if Dez Bryant actually knew how to run routes, as the Cowboys kept throwing smoke screens to the first-round wideout).

Dallas' offensive line issues will get fixed once Kyle Kosier and Marc Colombo are healthy. By the way, all this relates well to our next topic (a bonus topic!)…
7.BONUS. Does preseason matters after all?

Probably not. But it's worth noting that there were three offenses that looked awful in the preseason: Dallas, Carolina and Chicago. Well, the games count now, but these units still stink. The Dallas offense scored seven points in Week 1. The Carolina offense had five turnovers. The Chicago offense had four turnovers and scored only 19 points against a rebuilding Detroit defense. This isn't enough evidence to overturn the beloved "preseason doesn't mean a darn thing" axiom, but the continued struggles of these teams are worth pointing out (which we're doing here).
8. Lightning strikes, so don't play football?

The Jaguars-Broncos game was delayed 30 minutes during the third quarter because of lightning. This prompted me to send the following email Greg Aiello, head of the NFL's public relations department:

Hi Greg, we're going to pose this question in our NFL Facts and Rumors Blog, but thought we'd pose it to you guys first: Why does the NFL stop games because of lightning? All we ever hear is that the odds of getting struck by lightning are about the same as the odds of winning the lottery. So why pause a game because of it? Most of the 70,000 fans in attendance can't leave a stadium and get to safe cover that quickly anyway. Is it really worth the major inconvenience?

(This email was sent after midnight eastern time, so if the league does have a response, it will come after this is published. We'll throw it up if they send a response.)
9. Problem in Indy?

This is the perfect game for us media folk to blow way out of proportion. The Colts always beat the Texans…until now. The Colts can't lose when Peyton Manning is on fire…until now. The Texans fit the description of a team on the rise. Etc.

We must be careful not to get carried away about this outcome. But we also must ask the appropriate alarmist question: is Indy's offensive line a problem? Left tackle Charlie Johnson wound up playing in this game (he'd been out for about a month with a foot injury), but it didn't matter. Mario Williams dominated far more than his stats (four tackles, one sack) suggest.

And how about this: did you ever in a million years think Peyton Manning would post 40 completions for 433 yards, three touchdowns and zero interceptions in a LOSING effort? What the heck do we make of that?
10. Derek Anderson-Larry Fitzgerald woes

So I decided on Sunday around 6:30 ET to write about how Derek Anderson and Larry Fitzgerald were not on the same page – or not even in the same book, for that matter. Obviously, Fitzgerald's game-winning 21-yard touchdown reception put a dent in that angle. But not a big enough dent to obliterate it.

I still say the Cardinals have a problem with their passing game. Fitzgerald doesn't trust Anderson right now – nor should he. Anderson's accuracy issues were evident several times Sunday. Twelve of the 15 passes thrown Fitzgerald's way fell incomplete. Fitzgerald's body language reeked of frustration. And all this was against a hapless Rams secondary.

It's no surprise the Cardinals begged Kurt Warner to come out of retirement a few days ago.
For more NFL news, rumors and analysis, follow @cbssportsnfl on Twitter and subscribe to our RSS Feed .