Posted by Andy Benoit

After Tony Romo said the Cowboys needed to get the running game going, Marion Barber had 17 carries for a hard-fought 55 yards against the Texans. Felix Jones showed most of the usual speed and quickness that he, for whatever reason, hadn't displayed the first two weeks. Jnes gained 43 yards on seven carries.
The 49ers managed just 43 yards on the ground against a Chiefs defense that ranked 31st against the run last season. (Granted, it is a much-improved Chiefs defense. But still…)
Frank Gore didn't get going on the ground, but he amassed yards on nine catches. Michael Crabtree, however, has just six catches for 81 yards…on the season.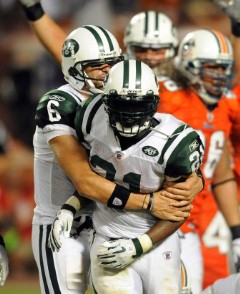 3 sacks for Chiefs underrated, over-energized OLB Tamba Hali. The fifth-year pro also recorded two tackles for a loss.
The Lions were 3/12 on third down against the Vikings. But the Vikings were 3/11 on third down against the Lions. Fun game.
The Patriots ripped off 200 yards rushing against the Bills. Forty two of those yards game from ex-Jet Danny Woodhead. Ninety eight came from BenJarvus Green-Ellis, who is fast become a favorite of the coaching staff.
Rookie tight end Aaron Hernandez had another strong outing, leading the Patriots with six catches for 65 yards. He also set a tight end team record for longest run: 13 yards. (Eat your heart out Ben Coates…or whoever had the record to begin with.)
Great day for tight ends in New Orleans. Jeremy Shockey had eight catches for 78 yards and a score (most of the catches were of the usual manhood-validating variety that Shockey has mastered). Tony Gonzalez, not to be outdone, had eight catches for 110 yards and a touchdown.
Counting assists, every Saints linebacker posted double digit tackles against the Falcons.
Chris Johnson had 125 yards against the Giants, but it took him 32 carries to get it. He looked exhausted by the second quarter.
23:28 = Panthers time of possession against the Bengals. 23:28 might also equal Carson Palmer's 40 time. Of course, with a cannon arm, Palmer doesn't need to run. But does Palmer still have cannon arm? He was 19/37 for 195 yards, his second straight game under 200 yards passing. There are whispers that Palmer still doesn't look like his pre-elbow surgery self.
Ryan Torain led the Redskins with 46 yards on seven carries. Remember the name – this guy will probably wind up being the team's top rusher in the second half of the season.
David Garrard somehow threw 31 incompletion on 30 pass attempts. Just kidding. But seriously, Garrard was bad. 13/30 for 105 yards and a pick.
Michael Vick ran the ball only four times against the Jags (30 yards and a touchdown).
After Sunday's game, 10 of DeSean Jackson's 18 career touchdowns have been 50 yards or longer.
The Chargers had five turnovers and gave up two kickoff returns for touchdowns at Seattle. That's what it takes to nullify a career-high 455 yards passing from Philip Rivers.
LaDainian Tomlinson has taken over as the No. 1 running back for the Jets. He had 15 carries against the Dolphins, five more than Shonn Greene had. Tomlinson managed a hearty 70 yards on the night.


For more NFL news, rumors and analysis, follow @cbssportsnfl on Twitter and subscribe to our RSS Feed .