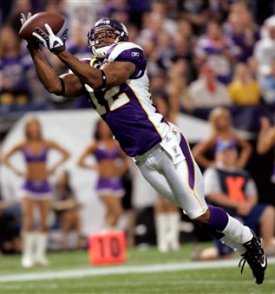 Posted by Josh Katzowitz
If this wasn't the surest indication that the
Vikings
want to win the Super Bowl RIGHT THIS VERY SECOND, today's trade for
Randy Moss
– without a new contract deal in place mind you, meaning Minnesota could have traded its third-round pick in 2011 (and maybe more, say some reports) for a 13-game rental – is the latest confirmation.
Of course, you could have said the same thing each time coach Brad Childress – or any of his players – flew to Minnesota basically to beg Favre to return for his 20th season.
But the fact Moss will be in a Vikings uniform, that will certainly help a Vikings offense that ranks 24th in the NFL in the passing game (and 16th in offense overall).
Even with Favre returning, the Minnesota pass game has been very unimpressive.
Sidney Rice
, Favre's favorite target last year when Favre had one of the best seasons of his career, is out until at least midway through the season (and maybe longer) while recovering from hip surgery.
Percy Harvin
– who's struggled with migraine headaches all season – hasn't done much, and
Bernard Berrian
has been even worse. In all, the only receiver Favre seems to trust is TE
Visanthe Shiancoe
.
Plus, Favre is playing like a 40-year-old man.
But because Moss can stretch the field vertically – similar to what Rice can do – that should help Harvin in running his underneath routes.
A deep threat in Moss also should serve to help the running game and
Adrian Peterson
. The running game has been good so far – it ranks fifth in the league – but with Moss on the field, the opposing safeties will have to worry about him and Peterson, and since they can't play the pass and play the rush at the same time, that only will help Minnesota's offense.
One unknown in this scenario is whether the Vikings can give Moss the contract extension he wants – some reports say he wants as much as $10 million a season. But since it seems they're going for it all right now, that might not matter. It's Super Bowl or bust for the Vikings, and Moss' performance and attitude could make or break that movement.
For more NFL news, rumors and analysis, follow @cbssportsnfl on Twitter and subscribe to our RSS Feed .