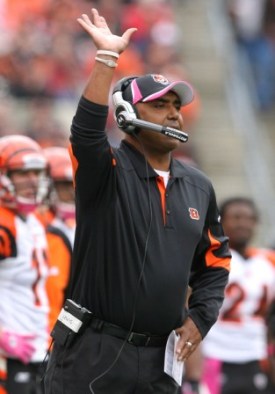 Posted by Josh Katzowitz
It seems likely that most of the
Bengals
would want to keep playing for coach Marvin Lewis. So, when QB
Carson Palmer
tells
Yahoo! Sports,
"He's done so much to change the atmosphere around here, and we really value him as a coach. I'm not really thinking about Marvin's contract situation – I'm pretty much just focused on football – but it would be great if they got something done," that's what you'd expect him or any of his teammates to say.
Say what you will about Lewis, but his players, for the most part, like him very much.
Lewis is in the final year of his five-year contract with the team. He's been with the Bengals since 2003, and entering Sunday's game, he's led them to a 58-57 record and two AFC North division titles.
But, according to Michael Silver of Y! Sports, Lewis and owner Mike Brown have not engaged in any serious contract extension talks.
You might wonder why, but if you think about it, this scenario is not that outlandish for a couple different reasons.
1) Lewis might not want to stay. The Bengals organization, while sometimes it makes horrendous personnel decisions (for example, giving tons of money to non-factors like Antonio Bryant), is not an especially generous organization.
Brown refuses to build a practice bubble (Cincinnati is the northern-most team without such a building), and during November and December, where it gets cold outside in Cincinnati, the team often has to bus 30-45 minutes into the suburbs to practice at an indoor soccer complex. Considering the Bengals have a sweetheart deal from Hamilton County on Paul Brown Stadium, one could consider this football owner malpractice.
2) Brown might have too much power. He's the owner, so technically this is allowed. But Brown also refuses to hire a general manager – he actually pays himself a GM bonus – and he makes many of the personnel decisions. While his father, Paul Brown, was a legendary coach and owner, the Bengals have made only two playoff appearances since Paul Brown died in 1991. What does that tell you?
Plus, Brown has very publically overruled his coach. Again, he's the owner, so he can do what he wants. But when Brown brought back the late Chris Henry in 2008, Lewis already had objected to the move. Brown did it anyway, emasculating Lewis to the locker room.
3) Lewis is popular with the players, but overall, his tenure has been only moderately successful (if you compare him with the Bengals coaches that came before him, though, Lewis has been like Vince Lombardi). While Brown is unfailingly loyal to his coaches – he's let the worst of the worst coach out their contracts – he might feel he can do better than Lewis if he has to pay somebody $4-5 million a year. If Lewis walks – and he very well could – the Bengals have one of the most-respected up-and-coming assistant coaches in the league in defensive coordinator Mike Zimmer.
Chances of Lewis staying at this point (in my mind): 50-50, maybe 60-40 that he stays.
For more NFL news, rumors and analysis, follow @cbssportsnfl on Twitter and subscribe to our RSS Feed .