Posted by Andy Benoit
Update (6:45)
:
Favre reportedly "broke down" during the apology
to his teammates.
If someone had told you several months ago that, before an October Monday Night game,
Brett Favre
would apologize to his teammates for "being a distraction", your first guess would have been that the
Vikings
were off to a slow start and the 41-year-old was suddenly feeling a bout of remorse for all the retirement/unretirement hoopla. Your second guess would have been that Favre and Brad Childress were quarrelling. Your third guess would have been that Favre said something foolish to the media. Or that the coverage about Favre facing his former team had gotten completely carried away.
Somewhere around your 49th or 50th guess, you may have suggested Favre was embroiled in a Tiger Woods-like controversy. Well, Favre's story has not approached Woods or even Roethlisberger level drama yet, but it continues to grow legs.
Chris Mortensen of ESPN reports
that Favre spoke to teammates at the team hotel in New Jersey. The quarterback apologized for being a distraction and vowed to "play lights out" against the
Jets
Monday night.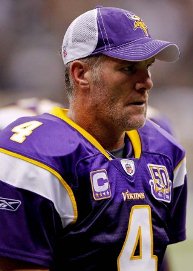 That "distraction" Favre is apologizing for – though, we need to point out, NOT admitting culpability for – would be the sexting allegations brought forth by Jenn Sterger and two other female massage therapists who were contracted by the Jets.
The NFL is on the fast track investigating these allegations. Sterger herself did not come forth – the original Favre photos and voicemails were leaked to Deadspin.com by a third party – but she says she will cooperate with the league. And so will the massage therapists.
The NFL prefers to move quickly here. Favre, who has essentially issued a bunch of No Comments regarding the allegations (things like "[the investigation] will take its course" and "My main focus is the New York Jets", etc.) has said he'd be willing to meet with Commissioner Roger Goodell if asked to do so.
If the league determines that Favre is guilty of any wrongdoing, it could suspend him under the terms of the personal conduct policy. That would be earth-shattering news, as it would mean the end of Favre's consecutive starts streak.
Many believe, given that Favre has no record of conduct violations, it's doubtful he will be suspended regardless of what the league determines. But Roethlisberger technically had no previous conduct violations. Of course, this is not a legal issue for Favre. But, unlike the Roethlisberger situation, it is potentially a legal issue for the NFL. After all, this alleged scandal involves Jets team employees. That could put unique pressure on Goodell.
We can cross that bridge once we get there. In the meantime, the most covered quarterback of this generation is hours away from taking center stage in New York.
For more NFL news, rumors and analysis, follow

@cbssportsnfl

on Twitter and subscribe to our
RSS Feed
.