Posted by Andy Benoit

Thanks to the Randy Moss and Deion Branch trades, we've read plenty of analysis lately about the Patriots offense. (Quick two cents here: what does Branch give the Pats that Wes Welker and Julian Edelman do not? Also, now that the Pats are ostensibly back to their dink-and-dunk offense, doesn't the loss of Kevin Faulk look even more significant?)

But what about the other side of the ball? Do the Patriots have a good enough defense to win without an explosive offense? The football gods were kind enough to provide New England with a Week 6 opponent that should provide an immediate bottom line answer to that question: Joe Flacco and the Ravens. Or maybe we should say Ray Rice and the Ravens. Or Anquan Boldin and the Ravens. Or Derrick Mason and the Ravens. Take your pick – that offense is loaded.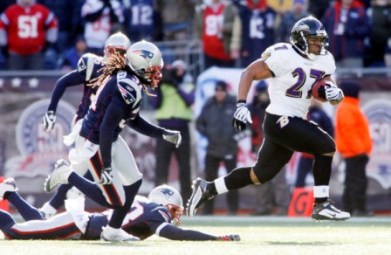 We all remember what happened last time the Ravens visited Foxboro: Ray Rice's 83-yard touchdown on the game's opening play proved to be a harbinger of one of the most thorough beatdowns in wild-card history. The Ravens rushed 234 yards on 52 attempts in that 33-14 route.

Let's start there: can Baltimore dominate New England on the ground again this Sunday? Ray Rice is fully healthy after battling a sore knee in late September. Rice's compact running style and innate feel for pressing a hole and setting up blocks evokes memories of Emmitt Smith. Like Emmitt, Rice can make lateral cuts without halting his downhill momentum or sacrificing his strength (this latter trait is what separates Rice from an explosive-but-situational player like, say, a Jamaal Charles).

The Patriots have outstanding athletes at inside linebacker. Jerod Mayo, at his best, is as good as any player in the league (ever seen the way he slips and sheds blocks?). And rookie Brandon Spikes, though not fast in terms of 40 time, closes on tackles with tremendous speed. That said, it's a tall order for any player to match up with Rice.

What's more, Rice has the benefit of an outstanding supporting cast. The Ravens refer to the classic power run game more than any team in the NFL. They'll use an overloaded line with versatile Marshal Yanda lined up next to Michael Oher, making tight end Todd Heap the offensive tackle on the weak side of the formation. This is a tactic teams use when they know they're flat-out stronger than an opponent. Rice is capable of moving a pile, though the Ravens have even better options in Willis McGahee, who has shown far more burst than his numbers indicate, and Le'Ron McClain, who you could argue is the AFC's version of Brandon Jacobs (the Brandon Jacobs of a few years ago, that is).

The Patriots would have welcomed a power run approach back when they had Richard Seymour, Ty Warren and outside linebackers who could actually set the edge against the run. The secret key to New England's success in the 3-4 has been having ends that can win the power battles in the trenches. Just how important are the ends in Bill Belichick's scheme? Important enough for coaches to frequently move the best nose tackle in football, Vince Wilfork, outside this season.

Wilfork's de facto position change reveals just how desperate the Patriots are at defensive end. The starter opposite Wilfork is Ron Brace, a second-year player who was inactive for most of 2009. The other option is Gerard Warren, a journeyman veteran who has spent his entire career as a 4-3 defensive tackle.

With four games in the books, the Patriots rank 20th against the run. The Ravens rank 14th in rush offense, but there isn't a soul out there who believes they'll be outside the top 10 come season's end.

The difference between this Ravens offense and the one that demolished the Patriots back in January is that this Ravens offense can consistently throw. The additions of Anquan Boldin, T.J. Houshmandzadeh and rookie tight end Ed Dickson have accelerated the already-steady development of Joe Flacco.

The Ravens, in a good way, are still trying to figure out roles for all their receivers. The Patriots, in a bad way, are still trying to figure out roles for all their defensive backs. New England's No. 2 cornerback slot has been a revolving door. Undrafted second-year player Kyle Arrington has been the most recent guinea pig there. Before him, it was Darius Butler. Jonathan Wilhite and Terrence Wheatley have also been considered before. The No. 1 corner job is held by Devin McCourty, a first-round rookie who has had natural ups and downs thus far.

The Patriot corners have all struggled in press coverage. And, thanks to surprisingly inconsistent safety play – because of freelancing, Brandon Meriweather has gone from Pro Bowler to nickel defender – the entire secondary has been vulnerable in Cover 3, one of the Belichick's favorite zones.

The conventional thinking would be that New England needs to pressure Flacco. But when your outside linebackers are Rob Ninkovich and Jermaine Cunningham (who captured a starting job because Tully Banta-Cain is a major liability as a playside run defender), the only way you pressure a quarterback is by blitzing.

A blitz would quickly define the read for Flacco and allow him to fall back on his arm strength. The Patriots may be better off taking their chances with rushing three and dropping eight. This would force Flacco to think and make decisions. The Patriots also want Flacco to have to make throws down the middle of the field, where he occasionally tends to misread coverages.

Of course, all this is based on the assumption that the Patriots can force the Ravens into third-down-and-long situations. And everything we know about the run matchup in this game suggests that third-and-long won't happen often.

For more NFL news, rumors and analysis, follow @cbssportsnfl on Twitter and subscribe to our RSS Feed .