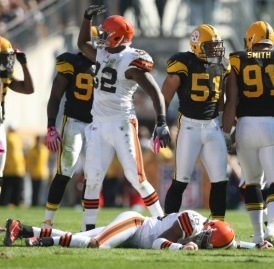 Posted by Josh Katzowitz
The fallout from the violent hits on
Browns
WR Joshua Cribbs and WR
Mohamed Massaquoi
by Pittsburgh's
James Harrison
and on
Ravens
TE
Todd Heap
by
Patriots
S
Brandon Meriweather
continues into today.
Ray Anderson, the NFL's vice president of football operations told
ESPN.com
today that the league will start suspending for dangerous hits.
"We can't and won't tolerate what we saw Sunday," Anderson told Chris Mortensen. "We've got to get the message to players that these devastating hits and head shots will be met with a very necessary higher standard of accountability. We have to dispel the notion that you get one free pass in these egregious or flagrant shots.
"What we saw Sunday was disturbing," Anderson said. "We're talking about avoiding life-altering impacts."
In other dangerous hits news, Harrison didn't show much contrition for the two hits. The league reviewed the Cribbs hit and determined it wasn't an illegal hit (really, it almost seemed incidental. Sort of). I imagine the Massaquoi hit won't be deemed a legal shot.
"I'm not worried about getting fined on that. Not at all," Harrison told the
Pittsburgh Post-Gazette.
"If I get fined on that, it's got to be a travesty. They didn't call (penalties on the plays). There's no way I can be fined."
I think "no way I can be fined" is a little strong. I think he'll definitely be fined for the Massaquoi hit, and honestly, I think he should be.
And if you're a
Steelers
official, you have to cringe when you read something like this.
"I don't want to injure anybody," Harrison said. "There's a big difference between being hurt and being injured. You get hurt, you shake it off and come back the next series or the next game. I try to hurt people.
"I thought Cribbs was asleep. A hit like that geeks you up, especially when you find out the guy is not really hurt, he's just sleeping. He's knocked out but he's going to be OK."
As for Meriweather, he was apologetic, but he didn't regret the aggressiveness of the play.
I was playing aggressive and something happened," Meriweather told WEII radio, via the
Boston Herald.
"I'm going to be aggressive. Point blank. I won't change my game, period. I'm sorry it happened."
Hey, at least he apologized for the result. Harrison thinks everything is right with the world. Until the NFL reaches into his wallet, of course. Or until he's suspended the next time.
For more NFL news, rumors and analysis, follow @cbssportsnfl on Twitter and subscribe to our RSS Feed .