Posted by Andy Benoit

Of the three players nailed by the NFL's financial hammer Tuesday –
James Harrison
,
Dunta Robinson
and
Brandon Meriweather
– one was hit significantly harder than the other two. And no, it wasn't Harrison, even though his fine of $75,000 was a full $25,000 more than the fines issued to the defensive backs.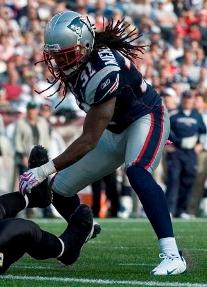 The player hit the hardest was Meriweather – big time, in fact. Why? Harrison is making $3.55 million in 2010. Robinson is making $5 million this season. Meriweather? He's making just $550,000 this season (plus a $150,000 workout bonus).
This in mind, Meriweather's fine was about 10 times more damaging than the other two players' fines. That's not right.
The NFL can fix this by changing fines from a flat rate to a percentage a player's salary. This change is a MUST if the NFL is going to be heavily fining players for safety issue violations. Think about it: Meriweather now has a serious deterrent from delivering an illegal hit. After all, he just lost 10 percent of his 2010 base pay. But what is Robinson's deterrent? He lost a mere one percent of his base pay.
Perhaps the threat of suspension will be an equalizer and enough of a deterrent. But still, it's plain unfair that Meriweather takes 10 times the financial ding that Robinson does. And this happens all the time in the NFL. Undrafted rookies are fined the same amount as superstar veterans when it comes to celebration violations, uniform infractions, ill-timed tweets, etc. Essentially, the NFL is using flat tax principles when it could be using progressive tax principles.
Because of front-loaded contracts and signing bonuses, fining players based on their salary in the current year probably wouldn't work. But the league could base fines around the guaranteed money of a player's contract. So, instead of simply fining a player $50,000, the league would fine him, say, 0.5 percent of his guaranteed money (or whatever percent is deemed appropriate). To keep with this example, a $50,000 fine would be issued to a player making $10 million guaranteed. The league and NFLPA are already negotiating a new CBA – add this to the agenda.
For more NFL news, rumors and analysis, follow

@cbssportsnfl

on Twitter and subscribe to our
RSS Feed
.