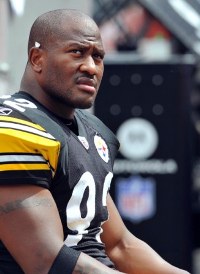 Posted by Josh Katzowitz
Steelers
LB
James Harrison
, a few days after playing his first game in an NFL world in which devastating helmet-to-helmet hits can get you suspended, admitted he backed off at times during Pittsburgh's win vs. the
Dolphins
last Sunday.
That's what he told Showtime's Inside the NFL, via
Pro Football Talk,
and he said it caused him to be extremely unproductive.
"We can still play the game, but it's not the same," he said.
During the broadcast, producers showed footage in which Harrison appeared to be less aggressive than normal. Harrison said that was a true assessment, because he was worried about facing a suspension.
He also discussed the fact he's not worried about permanently hurting himself with one of his explosive hits.
"If that happens it's going to suck, but hopefully I'll have made enough money and put in enough time that my kids don't have to worry about it," Harrison said. "If I've got to go through a little bit of hell so they don't have to, I'm fine with that."
Losing $75,000 a pop for illegal hits wouldn't help his bottom line either. Perhaps that's another reason he won't permanently injure himself with an excessive hit and will, once again, back off the next time he has a chance to blow up an opposing player. If so, good on the NFL.
For more NFL news, rumors and analysis, follow @cbssportsnfl on Twitter and subscribe to our RSS Feed .