Posted by Andy Benoit

The
Colts
-Eagles game this Sunday (CBS 4:15 ET) gives us a chance to pull the mask off one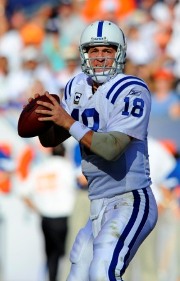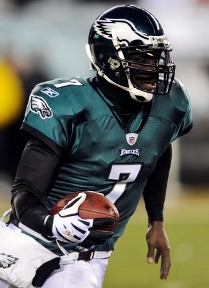 of the greatest farces in the NFL. Thanks to
Michael Lewis
' The Blindside, many fans believe you need a dominant left tackle in order to win in today's NFL. Not true.
The reality is, a great quarterback can overcome just about any pass protection issues. We often think of mobile quarterbacks in this instance. And, obviously, Philadelphia's
Michael Vick
is the poster child here. Indeed, early in the season, we heard again and again about how Andy Reid would choose Vick over
Kevin Kolb
because Vick had the athletic ability to evade pass-rushers who would shoot through Philly's porous offensive line. This thinking is certainly logical (we've all seen Vick make spectacular plays when having to flea the pocket), but it's also a tad under-baked.
Will Vick's mobility be important this week against speedy Colts defensive ends
Dwight Freeney
and
Robert Mathis
? At times, yes. But the
Eagles
aren't going to rely on it. Eagles coaches know that left tackle
Jason Peters
is coming off a knee injury and struggles with pass protection technique. They also know that right tackle
Winston Justice
does not have the lateral agility to handle Robert Mathis' dip-move around the edge. Thus, look for the Eagles to employ frequent double-tight end formations, and to align receivers and running backs close to the edge of the front five in order to help chip.
Why would the Eagles help their tackles in protection if they have a quarterback who can simply scramble away from the Colts ends? Because as valuable as scrambling can be, the best way to elude a pass rush is to play with poise in the pocket.
Enter
Peyton Manning
. The future Hall of Famer runs like he's wearing ski boots. And his left tackle was a sixth-round pick in 2006 who would be a utility backup on just about any other team. Yet Manning almost never gets sacked. Thank his poise in the pocket.
Poise in the pocket can mean different things. Sometimes it means getting rid of the ball in a hurry. Other times it means holding the ball a split second longer even when your protection is breaking down and you know you're going to get drilled the second you finish your throw. Often times it means taking a six-inch step forward or a two-foot step to the side in order to subtly elude a pass-rush and give yourself room to operate.
This skill takes outstanding footwork and throwing mechanics. It's a skill Manning has mastered and one that so many coaches have tried so very hard to instill in Vick. While improved, Vick is still far from masterful in this department. And he does not have the command of Philly's playbook the way Manning does of Indy's. It's this command that allows for Manning's quick decisions, which allows for the Colts to live with a
Trent Cole
-on-Charlie Johnson mismatch.
The Eagles don't have the luxury of simply living with this type of mismatch. Vick takes longer to process information and has rougher mechanics. Thus, he needs a cleaner pocket than Manning. The Eagles can give it to him, but they'll have to compromise some of his receiving targets. This means fewer weapons for Colts defenders to worry about, which means Colts defenders can now be more deceitful before the snap and more aggressive after it.
As you can see, it's a domino effect. But the first domino is not actually the left tackle – it's the quarterback.
For more NFL news, rumors and analysis, follow

@cbssportsnfl

on Twitter and subscribe to our
RSS Feed
.