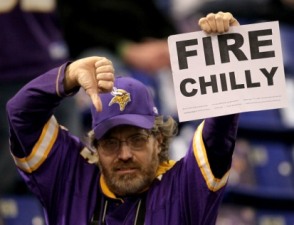 Posted by Josh Katzowitz
Did the
Vikings
somehow save Brad Childress' job today? Probably not. Even if Minnesota would have fallen to Arizona – and make no mistake, they SHOULD have lost that game – owner Zygi Wilf probably wouldn't have terminated Childress until after the season.
Or maybe not.
But make no mistake: the come-from-behind victory, thanks to RB
Adrian Peterson
, QB
Brett Favre
and TE
Visanthe Shiancoe
, makes life easier for the Vikings – at least for this week.
"A win will calm things," Favre told reporters.
Last week couldn't have gone much worse for the Vikings and Childress. He went above his boss' head and released
Randy Moss
. He and WR
Percy Harvin
(eight catches, 120 yards) reportedly had to be separated in a verbal confrontation Friday (Childress said after the game it was due to his desire for Harvin to get an MRI, which he did Saturday). Everybody seems to have crapped on Childress – his personality, his coaching style, the essence of his soul. And it sounds like it's been deservedly so.
When the Vikings fell behind the
Cardinals
24-10 late in the fourth quarter, chants of "Fire Brad Childress" could be heard around the dome. But Favre, who went 36 for 47 for a career-high 446 yards, two touchdowns and two interceptions, and Peterson (144 total yards and two scores) led the Vikings to a pair of touchdowns in the final 4 minutes of the game.
In overtime, Minnesota's defense – surprisingly led by DE
Jared Allen
, who's been so irrelevant this year but had a tremendous 5-minute stretch near the end of regulation and in overtime – stopped Arizona. That led to a 35-yard field goal from
Ryan Longwell
that sealed the win.
And, for now, might make Childress – who said the crowd at the Metrodome attended the game today to see an execution – feel better. Not that, ahem, he needs it.
"I'm not going be here and be like Favre and tell you that I need a hug," Childress said. "I'll be all right."
(Childress, I think, was not trying to be an ass with that comment. I think he was actually referring to what Favre said earlier in the week when he was asked whether Childress is a compassionate coach: Said Favre: "Is he compassionate as in give us a hug or something? Boy, I sure could use one. But he hasn't given me one.")

UPDATE (10:12 p.m.):
Favre had an interesting comment when he was asked if he felt like he was playing for Childress' job today.
"I felt like I was playing for mine," Favre said. "I am just being honest. I have played for 20 years. I have always wanted to be the best. I had to ask myself, 'Are you willing to do what it takes?'
"Do I always get along with my head coach, quarterbacks coach, offensive coordinator? No. Do I always agree with the plays that were called? No. Why should that factor in to me wanting to be the best player I can be?"
For more NFL news, rumors and analysis, follow @cbssportsnfl on Twitter and subscribe to our RSS Feed .