Posted by Josh Katzowitz
As if things couldn't get any worse, the official
Cowboys
website was pulled off the grid Sunday, and when readers went to check on the status of former coach Wade Phillips on Monday, all they found was
a generic page
saying the site was available for purchase.
Actually, considering how poorly the season has gone, the disruption might not be the worst thing in the world for the Cowboys (Move along, people! Nothing to see here! Everything is under control!).
According to the
Dallas Morning News,
it appears the team simply forgot to renew the domain registration for dallascowboys.com. The team quickly renewed the registration, but apparently, it can take up to 48 hours for all Internet service providers to recognize it. As of 9:39 a.m. (ET) on Tuesday, this is what you saw on the Cowboys official site.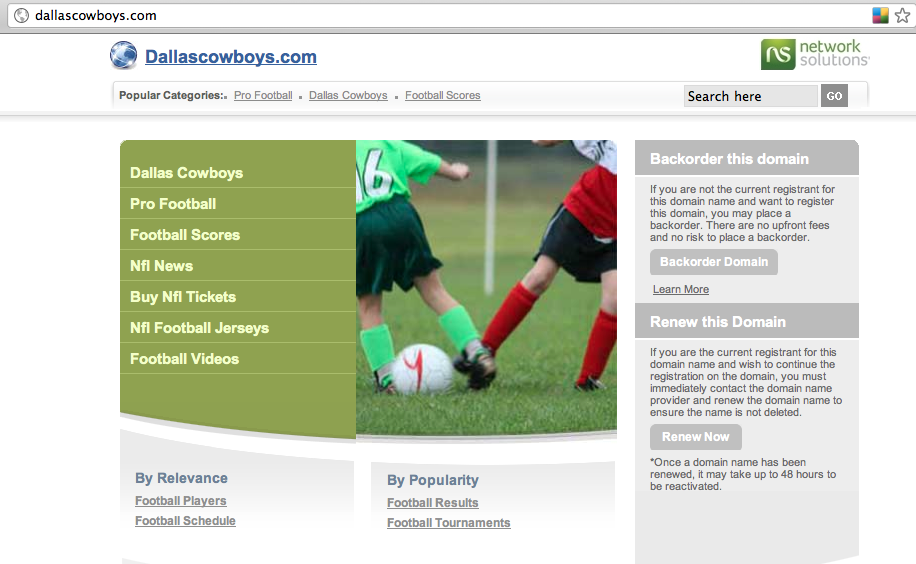 Tell me: if you somehow won control of dallascowboys.com what kind of content would you put on your site?
UPDATE (1:54 p.m.):
According to
Darren Rovell of CNBC,
the domain name actually expired last Tuesday (though the name wasn't actually put on sale until Sunday). How crazy is that?
And good news for Cowboys fans. The domain, which costs the team $9.99 per year, has been placed on auto-renew. So, unfortunately, we won't have another post about this subject this time next year.
For more NFL news, rumors and analysis, follow @cbssportsnfl on Twitter and subscribe to our RSS Feed .