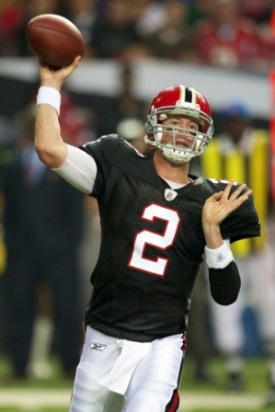 Posted by Josh Katzowitz
I was prepared to write a post about how much better
Matt Ryan
is at playing quarterback than
Joe Flacco
. I probably wouldn't have phrased it exactly like that, because the difference in the abilities of Ryan and Flacco is probably minimal at best.
But with the
Falcons
dominating the
Ravens
for most of the game Thursday night – and with Ryan easily out-playing Flacco – it would have been an easy story to write.
Yet, then, Flacco showed that, while neither he nor Ryan should be considered a top-five quarterback, they're most definitely two of the better quarterbacks in the league. And they're two quarterbacks who can push their respective teams deep into the playoffs and perhaps take them on a ride to the Super Bowl.
During Atlanta's 26-21 win vs. Baltimore, Ryan was brilliant, completing 32 of 50 passes for 316 yards and three touchdowns. It was a career game for him.
Flacco (21 of 34 for 209 yards, three touchdowns and one pick), who looked so flat for most of the game, willed his team to 14-straight unanswered points, including two touchdown passes in a span of 4:37 late in the fourth quarter. It was a heck of a final 15 for him.
Briefly, after Flacco hit Ravens TE
Todd Heap
for the nine-yard score with 1:05 to play to give Baltimore the 21-20 lead, it looked like Flacco had been vindicated.
Until Ryan – who improved to 18-1 at home in his career – took the field, that is.
He didn't get a ton of help from his receivers.
Harry Douglas
dropped a pass. So did
Roddy White
, which was strange because White had dropped one earlier in the quarter and White almost never drops passes.
But he threw a great ball to
Michael Jenkins
for a 24-yard gain in which Jenkins made a wonderful fingertip catch. He connected with White, and two plays later, Ryan – with the pocket collapsing around him – threw toward TE
Tony Gonzalez
. The pass was incomplete, but the officials called it pass interference on Ravens LB
Tavares Gooden
.
Which set the stage for Ryan, who rolled left and threw a great pass to White for the 33-yard touchdown with 20 seconds to go and the victory.
Earlier, I told you Ryan isn't the elite of the elite. After all, can you visualize him standing in the same picture as
Peyton Manning
,
Tom Brady
or
Philip Rivers
? But with more performances like that, you can see that he eventually could make his way into the frame with the finest of the fine.
Ryan is already a really good quarterback. Ryan becoming a great quarterback is very much a real possibility.
For more NFL news, rumors and analysis, follow @cbssportsnfl on Twitter and subscribe to our RSS Feed .