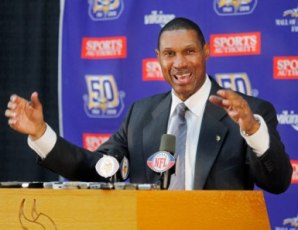 Posted by Josh Katzowitz
If there was a theme going into the Zygi Wilf/Leslie Frazier news conference this afternoon, it must have been, "Um, let's not talk about the past. Let's focus instead on the future and, specifically, the Washington
Redskins
."
Perhaps that's why Wilf – who Andy writes
shares the blame in this mess
– deflected every question about why
he decided to fire Brad Childress
today, what affect
Randy Moss
' release had on his decision and whether
Brett Favre
would finish the season.
Perhaps that's why Frazier, named the interim coach in place of Childress today, preferred to talk about how the
Vikings
need to be good teammates to each other and focus their energies on their next game.
And he's going to do that by, um, starting Brett Favre.
"There's no hesitation for me in that regard," Frazier said.
When Frazier talked to his team – and now it is
his
team – he focused on the next week of preparation. Even though people are going to write about and discuss the past, look forward, he said. Not backward.
"We can only do what we can do going forward," said Frazier, who also said he didn't expect to get his first head coaching job in the NFL in quite this fashion. "Hopefully when we came back on Wednesday, all of our energy and focus will be on the Redskins.
"The one thing I tried to address with our guys is that you want to be a good teammate. That's part of being successful in our league. We're going to address a number of different things, but being a good teammate is paramount to having a successful team. In some ways, this is a day of celebration for our team, because we can embrace this moment as a group to focus our energy on the Washington Redskins and not get caught up in anything else."
While everybody at Minnesota wants to think about the future, we need to talk about the past a little bit, don't we?
So Zygi Wilf, why fire Childress now?
"There wasn't one component that factored into this decision," Wilf said. "We just felt we made the best decision for the organization moving forward. We have high expectations of this team."
And how upset was Wilf about Childress releasing Moss without telling Wilf about it beforehand?
"That's in the past. We want to make sure we focus on the future. We want to go forward and have our team forward."
Did that have any effect on your decision to pink-slip Childress?
"Again, there was no one time when this decision was made," he said. "We just felt moving forward, this is what was best for the organization."
OK, since we're not getting anywhere with this line of questioning, let's talk about the future. What does Frazier have to accomplish in order for you to hire him for the full-time head coaching job?
"I know he is focused on making this team respond for the rest of the season," Wilf said. "We will evaluate everything at the end of the season."
One guy who seemed pretty excited with the change was DE
Jared Allen
.
"He helped turn this defense into a top ten unit year in and year out," Allen told the team's official website, via our
Rapid Reporter
Dana Wessel. "Leslie's great at managing players and coaches, and I know the guys will play hard over the next six weeks."
For more NFL news, rumors and analysis, follow @cbssportsnfl on Twitter and subscribe to our RSS Feed .