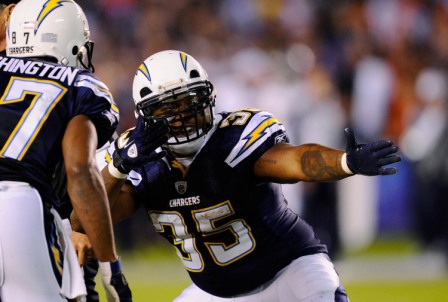 Posted by Josh Katzowitz
The San Diego
Chargers
are going to win the AFC West again.
That much seems clear after watching San Diego dominate the
Broncos
35-14 tonight. Although Denver scored on what was an easy game-opening drive, this game was almost never in doubt. For a team that lost five of its first seven games this year, the Chargers once again are the class of the division.
And it's not like other teams haven't had a chance to bury the Chargers early in the season.
The
Chiefs
played well early, starting out 5-2, but they've lost two of their last three – including a 49-29 decision defeat to Denver – and are barely hanging onto first place (the Chargers and Chiefs will play again Dec. 12). The
Raiders
have exceeded expectations while shuffling two quarterbacks in and out of the game seemingly every week, but they're still only 5-5 (and tied with San Diego for second place in the West). And Denver … well, you can forget about the Broncos.
So, what's changed?
Philip Rivers
has been fantastic all season – he's now thrown for 3,177 yards (and he's still on pace to break the season mark for passing yards), 23 touchdowns and just eight interceptions – and he's perhaps the No. 1 MVP candidate at this point in the season.
But first-round pick RB
Ryan Mathews
still hasn't played that much. The special teams have been downright awful. And the underachieving Norv Turner is still the head coach of the club.
Yet, in place of Mathews,
Mike Tolbert
has been more than solid as the No. 1 RB (tonight, he rushed for 111 yards and a score). Though the Chargers have played without top-flight WR Vincent Jackson – who will return next week – all season and TE extraordinaire
Antonio Gates
the past two games,
Patrick Crayton
has been productive (105 receiving yards and a TD tonight) and RB
Darren Sproles
has done well catching passes out of the backfield.
And the defense, mind you, has been really good, leading the NFL by allowing 270.7 total yards per game and recording a league-high 32 sacks (coming into tonight's game).
But perhaps the biggest reason for the turnaround? Turner himself. As you might be aware, Turner isn't exactly the fiery, motivating-type coach. But when San Diego fell behind 19-14 to Tennessee at halftime in Week 8, Turner gave a teary-eyed halftime speech that inspired San Diego to turn that five-point halftime deficit into a 33-25 victory.
That carryover has led to a three-game winning streak, including the Chargers' most complete game of the season tonight.
"When I saw Norv crying, I knew it was real," Gates told a radio station after the Chargers beat the
Titans
. "This means the world to him. That spoke volumes and it worked. Not to say that guys didn't believe up to that point, but I think he made himself clear."
Now, the Chargers are making it clear to everybody else in the division. The AFC West title is for San Diego, and nobody else will take it from the suddenly-resurgent Chargers.
And yeah, Turner, once again, will be on the hot seat if the Chargers don't make a playoff run, but still, he deserves plenty of credit for his team's turnaround.
For more NFL news, rumors and analysis, follow @cbssportsnfl on Twitter and subscribe to our RSS Feed .