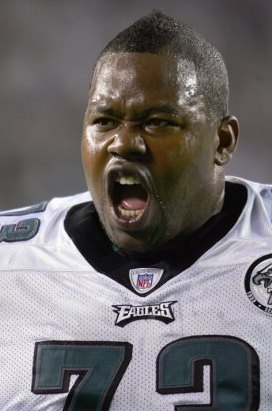 Posted by Josh Katzowitz
It looks like
Giants
OL
Shawn Andrews
won't have to spend too much more time at the hospital for his back problems. As
Rapid Reporter
Alex Raskin writes, Andrews is expected to be released from Hospital for Special Surgery in New York on Saturday morning.
Andrews was hospitalized Thursday
with a lingering back problem that prevented him from practicing on Thanksgiving (Will Beatty will take his place on New York's offensive line).
Apparently, Andrews doesn't love staying in the hospital. A sampling of passages from his
Twitter account
in which he laments the hospital food and his extraordinarily long wait for his loved ones to bring him some grub from the outside.
*Lady came in @ 4:55 a.m. To take my vitals.... SMH can't get no rest round here.. She said good morning all I could say was Baaaaaaaaaaa
*Just got a couple calls from some co-workers. I have to save those guys are really awesome. I can't stress that enough..
*I do have some good grub on the way & I hope the ER is open cause this Turkey is DOA!!!!! #ImExcited
*Meds got me dozing off which makes it better cause the longer I nap the quicker the Food gets here.
*Ok now is not the time for this Nauseoustivityness(my word) I'm still gonna eat. Might be over the toilet but I'm gonna eat... SMH
*These River Gulls Flying outside my window are so lucky my window can't open or I'da been done have my Feast. All I need is Pam & a Lighter
*That's a verrrry uncomfortable feeling having needles stuck 7 inches deep into your back! Not as bad as being cut open, but still rough.
*I wanna call & see where my family is w/ the grub, but I don't wanna be disappointed when they say 45 Min. Til we get thru the tunnel...
*They HERE THEY ARE HERE
Well, at least Andrews is keeping himself busy while he's laid up in the hospital. And he's keeping his sense of humor. And it's nice to see a happy ending to the story (Andrews finally getting his food after a torturous wait).
For more NFL news, rumors and analysis, follow @cbssportsnfl on Twitter and subscribe to our RSS Feed .