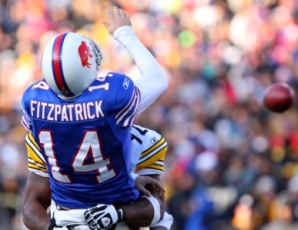 Posted by Josh Katzowitz
Today's installment of James-Harrison-is-flagged-for-unnec
essary-roughness, the
Steelers
LB got the flag for smacking
Bills
QB
Ryan Fitzpatrick
in the chin with the crown of his helmet.
For a guy who's been fined $100,000 this year for infractions such as this, he really doesn't seem to care about the rules that govern NFL football. Either that, or he doesn't care about saving his money.
After the game, Harrison said he did nothing wrong.
"It's the same exact thing if you go back and look at the play from last week," he told reporters after the game. "I got the same flag (last week), but I didn't get a fine."
For his part, Pittsburgh coach Mike Tomlin wasn't interested in discussing the topic.
"I don't even want to talk about it," he said.
Chances are, if Harrison hears from this league
this
week, he'll be champing at the bit to discuss his feelings. And perhaps he'll start thinking about retiring again.
For more NFL news, rumors and analysis, follow @cbssportsnfl on Twitter and subscribe to our RSS Feed .