Posted by Andy Benoit

1. Status quo in prime time


The Indianapolis Colts have always had trouble against 3-4 defenses. The crux of the problem has often been Indy's shortcomings at the guard position. For years, the Colts fruitlessly attempted to block 3-4 outside linebackers by pulling their guards to the edges in pass protection. Those were the pre-Super Bowl days when Peyton Manning was derisively referred to as a great regular season quarterback. The Colts no longer pull their guards against 3-4 outside rushers, but that doesn't mean Colts guards aren't still are major liability against teams like New England, Pittsburgh or, as we saw Sunday night, San Diego.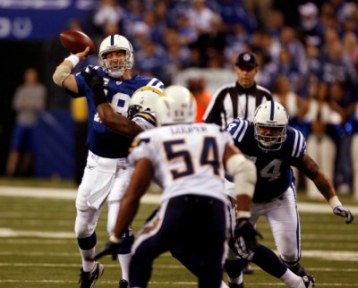 How big of a bust is Mike Pollak? The '08 second-round pick can't even get on the field ahead of Jeffrey Linkenbach, an undrafted rookie tackle-turned-guard who, since you started reading this paragraph, has been driven into the backfield by Antonio Garay two more times. Mike DeVan, the starter on the left side, has been almost equally as inept.

Manning, as a consequence of a shaky offensive line, injuries at running back, receiver and tight end and a few uncharacteristic misreads of his own, has now posted back-to-back three-interception games for the first time since his '98 rookie season. By the way, on Manning's third interception, NBC coaxed the audience into believing that Eric Weddle's pick was the result of an uncalled pass interference penalty. The reality is, Weddle got away with a bit of a hook, yes, but Reggie Wayne went to the ground on his own. It was a calculated gamble by a star receiver who had an unusually terrible night (three drops and the failed fall). That gamble simply backfired.
The headline above – "Status Quo in prime time" – does not apply strictly to the Colts' issues against 3-4 defenses. It also applies to the fact that we've reached the holiday shopping season and Norv Turner's Chargers are white hot. By now you've seen the graph depicting how San Diego's winning percentage always climbs dramatically with each month of the regular season. The Chargers, with the league's top-ranked offense AND defense (in terms of yardage) are winners of four straight and head into December as the clear team to beat in the AFC West.

Sunday night was supposed to mark the San Diego passing game's return to full health. Instead, Antonio Gates remained hobbled by his ailing plantar fascia (Gates played but was not himself) and Vincent Jackson either hurt his calf or found a creative new way to holdout. In response, Philip Rivers morphed into a dink-and-dunk quarterback. Rivers was 19/23, with 10 of those completions going to running backs Mike Tolbert, Jacob Hester and Darren Sproles. It was just another example of Rivers' malleability as a leader and Turner's brilliance – yes, brilliance – as an offensive coach.

Colts fans, no need to worry. Your team is 6-5 but still atop the surprisingly mediocre AFC South. The Colts will only get healthier – assuming they don't pay for stupid mistakes like trotting Manning and Wayne back on the field late in the fourth quarter after having already waved the white flag – and likely cruise to either 10-6 or 11-5. There won't be the familiar late-season tank job, but that's not all bad considering the last time this team had to actually play all 16 games was 2006, when it won a Super Bowl. The Colts will have to concoct a plan for those pesky 3-4 defenses though. They're almost certain to host either the Jets, Patriots, Ravens or Steelers in the Wild Card round of the playoffs.


2. So maybe running does matter

A leading factor in the Colts' three-out-of-four-game losing streak has been the offense's utter inability to run the ball. The thinking – okay, MY thinking – has been that teams with superstar quarterbacks don't need to run. The Colts ranked 32nd on the ground last season and nearly went undefeated on their way to a Super Bowl. The year before that, the Cardinals ranked 31st in rushing but won the NFC.

I still think running is overrated for teams with great passers. However, of the 12 lowest-ranked running offenses in the NFL this season, only the Colts, Packers and Saints are legitimate playoff contenders (the Seahawks, technically, are playoff contenders, but their standing membership in the NFC West violates the "legitimate" stipulation). The Colts and Packers both showed on Sunday that it's one thing to be bad on the ground, while it's another to be utterly inept. When you're utterly inept, you become one dimensional.

Indy knew going into the game against San Diego that its run game would be stuffed. That turned out to be one of the few things that went according to plan, as Donald Brown and Javarris James combined for 24 yards on 13 carries. The one-dimensionality of the Colts allowed the Chargers to play downhill the entire night. That helped the pass-rusher unload on Manning, which sparked the turnovers that heavily influenced the game.

Earlier in the day, in the terrific Packers-Falcons game – which we'll dive into in a moment – Packers running backs managed just 26 yards on 11 carries. (Quarterback Aaron Rodgers inflated the team's rushing statistics with 12 runs for 51 yards, most of which were improvised scrambles). Green Bay's ineptitude on the ground hindered Mike McCarthy's play-calling on more than one occasion late in drives.
So often the offensive line gets blamed for a team's poor run game. Indeed, the Colts front five is below average. The Packers' front five is a tick above average, though it can be inconsistent. But in the case of these two teams, the run game problems derive mainly from the running backs themselves.

Both clubs are missing their starters (Joseph Addai has been out since October 17 with a neck injury; Ryan Grant was lost for the season in Week 1 with an ankle injury). The backups have been inadequate. Indy's Donald Brown is an especially bad NFL runner. He's indecisive, undersized and, aside from when he's catching passes in the flats, he's the opposite of quick. Brown appears destined to be the only first-round pick that Bill Polian has whiffed on. For Green Bay, Brandon Jackson is equally limited. The former second-round pick is decent in the passing game, but as a traditional first-and second-down back, he's far too lethargic.

Contrary to popular opinion, a running back influences an offensive line more than an offensive line influences a running back. The Colts and Packers are being painfully reminded of this.


3. Time to start talkin' Dirty Bird

What an absolutely fantastic football game we had in the Georgia Dome Sunday afte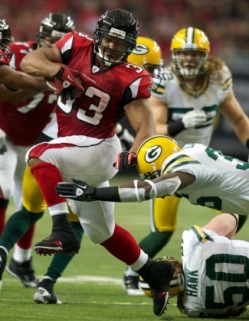 rnoon. Just take a look at the drive charts. The Packers had five drives that went either nine-plus plays or 80-plus yards. The Falcons had three such drives, including a pair of 14-play, 80-yard touchdown drives.

Aaron Rodgers made a litany of spectacular individual plays down the stretch, as he was able to buy time against Atlanta's three-man rush/eight-man zone. It was surprising that Atlanta leaned on this conservative defensive concept. Those who watch ESPN's brilliant NFL Matchup Show learned Sunday Morning that the Packers love to give Rodgers ample time to throw in the pocket, even if it means employing a six-or seven-man protection scheme. Thus, one figures, a three-man pass-rush is a tactic that plays right into Green Bay's hands. Indeed, Rodgers spent much of Sunday holding the ball for eternity before lasering passes to his third or fourth read or scrambling to move the chains.

The only negative about Rodgers' game-tying fourth down touchdown strike to Jordy Nelson was that it came with 56 seconds still left on the clock. That was enough time for Matt Ryan to complete four consecutive passes for a total of 20 yards to set up Matt Bryant's game-winning 47-yard field goal. (The Falcons began that drive on the 50 after Eric Weems' 40-yard kick return was buttressed by a 15-yard facemasking penalty.)

Ryan was as efficient as a Google search Sunday, but the hero for Atlanta was Michael Turner. The thundering Pro Bowler went over 100 yards for the sixth time this season and fourth time in five games. Turner carried the ball at least 23 times in all four of those 100-yard games. (Surprisingly, Jason Snelling has slid from being the "two" of a 1-2 punch to being a scantly-used backup.)

The Falcons seem intent on hitching their wagon to a true workhorse running back. This 1990's mentality suits Mike Mularkey and his tight end/fullback-heavy offense well. Turner has responded in large part because, unlike a lot of teams that rely heavily on a power runner, the Falcons are not handcuffed by mediocrity in the passing game. Roddy White has been the best wide receiver in the NFC this season (he easily leads the conference in both receptions and yards) and Tony Gonzalez (six catches, 51 yards and a touchdown Sunday) remains of Hall of Fame caliber.

There's still a long ways to go, but the Falcons, at 9-2, are on track for homefield advantage in the NFC playoffs. That's significant considering Ryan is 19-1 in the Georgia Dome.


4. Da Bears

Who would have guessed that a "homefield advantage" mention would be an appropriate segue to the Chicago Bears? The heater beneath Lovie Smith's seat was officially switched off after the Bears held off the electrifying Eagles and improved to an NFC North-best 8-3. How'd they do it? The same way they did it the previous three weeks: by running the ball effectively enough to give the offense the necessary balance to execute Mike Martz's scheme.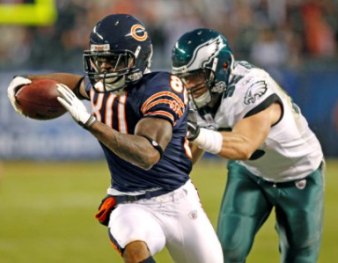 Early in the season, Jay Cutler was dropping back to throw on every down, and teams were able to tee off against Chicago's unathletic front five. In the past month, however, Martz has taken more to calling Matt Forte's number. Forte, averaging 18.5 carries per game his past four outings, has been 80 percent stellar, 20 percent spectacular (he had 117 yards on 14 carries against the Eagles).

The running game itself has not propelled Chicago – the THREAT of the running game has. Having just enough balance to keep defenses guessing is what has allowed the Bears to successfully usher in two new starting tackles (Frank Omiyale on the left side and rookie JaMarcus Webb on the right side).

It helps that Jay Cutler is playing well. Cutler's career-high four touchdowns against the Eagles were a showcase of the quarterback's arm strength and of the now clearly-defined roles of Chicago's receivers. Earl Bennett and Greg Olsen have become the preferred red zone targets (Bennett found the end zone twice; Olsen found the end zone for a second time in three games). Johnny Knox is the explosive speedster between the 20's. Devin Hester – finally! – is being used the gadget weapon in the slot. (By the way, why did the Bears replace Hester at kick returner a few times with Daniel Manning on Sunday? Manning glides with scintillating speed, but we've been over this with Chicago: Hester is the greatest return ace of all-time. Watching the Bears re-insert him at kick returner one week but de-insert him a few times the following week is like watching someone trying to quit smoking. Old stupid habits die hard; the Bears still have not completely broken their old stupid habit of inexplicably removing Hester from special teams.)

The Bear defense has been as impressive as the offense, thanks to the familiar excellence of the linebackers and the emergence of Julius Peppers (he's been far more valuable than his six sacks on the season suggest). Offense, defense and special teams are all clicking in Chicago. Unlike September, this wave of success is a product of continuity. Get used to the Bears – you'll be seeing a lot of them in a few weeks. They have a trap game at Detroit in Week 13 but then a matchup with the Patriots that could get flexed into primetime in Week 14. After that, it's their annual Monday night showdown against the Vikings.

Speaking of the Vikings…


5. Minnesota sticks it to Brad Childress

Did you see the way the players serenaded Leslie Frazier after their win at Washington Sunday? There was the Gatorade shower (imagine Chilly getting one of those. Seriously, just imagine it. You can't, can you?). There were the handshakes and smiles. And there was Brett Favre handing Frazier the game ball. Nice touch, Brett.

The Vikings-Redskins game itself wasn't much to write home about. Both teams had strapping opening drives (Minnesota seven plays, 71 yards for a touchdown; Washington 13 plays, 83 yards for a touchdown) but did little after that. Both quarterbacks posted pedestrian numbers. Adrian Peterson left in the first half with an ankle injury (he wanted to go back in but instead got scheduled for an MRI Monday). There weren't many defensive plays of note, aside from E.J. Henderson's diving interception off a bad Santana Moss deflection.

At the end of the day, this was an uneventful contest between what are now two non-playoff contenders. So why is it one of 10 stories worth your attention? Because it still gave us a chance to refer to the Childress-Favre drama again.


6. Poor Stevie

Who knows why Bills wide receiver Steve Johnson dropped that surefire game-winning touchdown against the Steelers in overtime. Perhaps Johnson was thinking somewhere in the back of his mind about his four previous drops on the afternoon. Perhaps he succumbed to the incredulity about his sudden emergence that everyone else has experienced at some point this season (it's still hard to believe that this unknown Kentucky product has been as good as he has). Or, perhaps the Steelers secondary put in a special little request to their buddy upstairs during one of those prayer circles that they frequently conduct on the sideline during games (you know, those prayer circles that cameras always catch but that no broadcaster has had the gall to acknowledge yet?)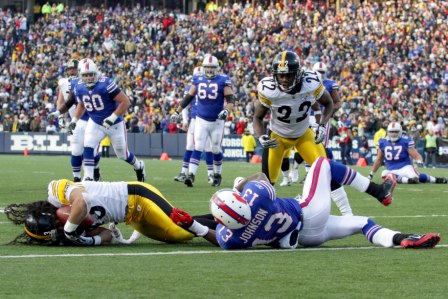 If you asked Johnson to pick one of those three, he'd probably pick the prayer circle. He seemed to have a rift with God after the game. Check out the 24-year-old's tweet: "I PRAISE YOU 24/7!!!!!! AND THIS HOW YOU DO ME!!!!! YOU EXPECT ME TO LEARN FROM THIS??? HOW???!!! ILL NEVER FORGET THIS!! EVER!!! THX THO..."

Since God has already been dragged into this, has anyone from the Bills considered asking Him for a hand in run defense? As heartbreaking as the Bills' most recent overtime loss was, the cold reality is the outcome was a result of Pittsburgh ramming the ball down their throats. The game began with the Steelers marching 78 yards on 13 plays, nine of which were runs, for a score. The game ended with the Steelers marching 58 yards on 13 plays, nine of which were, again, runs, for a score.

The Bills came into Sunday allowing a league-worst 167.4 yards on the ground. The Steelers rushed for 206 yards on 45 carries. Rashard Mendenhall, who is fast becoming the premiere fourth quarter closer in the NFL, had a jarring 36 carries for 151 yards (how's that for getting ready to face a physical Ravens defense in Week 13?).

One other note from this game: the magnificence of Troy Polamalu. After missing practice all week with a muscle strain near his Achilles, the superstar safety made a game-saving interception near the goal-line late in regulation and unloaded several open field tackles in overtime.




7. The Bucs are who we thought they were

Look, the Tampa Bay Buccaneers are not an elite team. Their loss at Baltimore dropped them to 0-4 against teams with a winning record. It was a fairly convincing loss that followed the script. In fact, instead of reading a recap of the game, go ahead and read the Key Matchup breakdown from Friday – it's all the same.

So the Bucs are not an elite team. And their outcomes are predictable. Okay, fine. But you know what else they are? They're a young upstart club that's 7-4 because they know how to take advantage of inferior opponents. The loss at Baltimore was similar to the loss at Atlanta in that the Bucs came to play but ran into a better team. They get a crack at the Falcons again next week. It's likely they'll drop to 7-5. But after that, the Bucs face the Redskins, Lions and Seahawks. From a pure mathematical standpoint – and seriously, that's all this is here – this team's patterns in 2010 suggests that a 10-win season is still in order.


8. Suspend them both

The Andre Johnson and Cortland Finnegan fight: Whoa! Fines are on the way. If the league is wise, so are suspensions. Johnson was throwing genuine haymakers at a player on the ground who was wearing no helmet. True, the normally reserved receiver has a clean track record. But if those punches were thrown in the NBA or in MLB, there'd be a multiple-game suspension. The violent nature of football casts a different light on fighting in the NFL, but that wasn't a football fight – it was a FIGHT fight. Sit him down a game.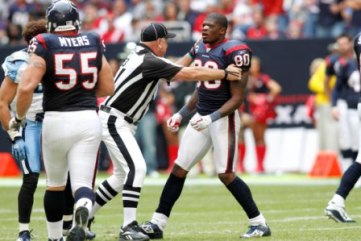 Finnegan should be suspended, too, on the grounds of being a repeat jackass. Not joking here. Just like multiple misdemeanors can eventually equal a felony in our justice system, Finnegan's continuously chippy play needs to be curtailed with a felonious punishment. Every week the guy is drawing flags or small fines for various personal fouls. He's not even a superstar yet we all recognize his face simply because he loses his helmet in a scuffle seemingly at least twice a game.

Finnegan's antics after the fight were just as appalling. He was grinning and jabbering at the Texans bench. When he left the field, he raised his arms to mockingly pump up the Houston crowd. It would have been cute if not for the fact that Titans were getting thumped 17-0 at that point. Who does Finnegan think he is, Vince Young?

Because Finnegan was an unheralded seventh-round draft pick, we've all championed his behavior as feistiness and scrappiness. We praise him for having one of those chips on the shoulders. But Finnegan's actions have gotten to the point of bush-league.
Back in October, the league issued the cornerback a warning about his dirty hits and behavior. The league now has a chance to act harshly on that warning.




9. Dwayne Bowe

I've been holding out on a Dwayne Bowe feature these past few weeks. I haven't been able to shake the fear that the second I step in this guy's corner, he'll pull the rug out from under me. But after his 13-catch, 170-yard, three-touchdown performance at Seattle (convincing win on the road for the Chiefs, by the way), I'm willing to take the risk and trumpet the fourth-year pro's maturation.

Bowe no longer pays rent in Todd Haley's doghouse. And he no longer drops passes with regularity. He's gone over 100 yards receiving in each of his last three games, and he's caught a touchdown pass in a team-record seven straight outings. (Even more remarkable is that he's had multiple touchdowns in six of those outings.)

Bowe is sculpted like a possession receiver, though he's become a downfield target as well. All the more impressive is that he's doing this even though the Chiefs don't have an authentic No. 2 wideout (Chris Chambers has less than 200 yards receiving on the season).

Bowe will have plenty of chances to prove – or, I guess now, verify – his merits during Kansas City's playoff push these final weeks. He faces Champ Bailey next week, Quintin Jammer in Week 14, the formerly scrappy but currently bush-league Cortland Finnegan in Week 16 and Nnamdi Asomugha in Week 17.


10. Quick Hits

***Sam Bradford took advantage of a Broncos defense that refused to rush the passer by logging his first 300-yard game as a pro. The Rams, 5-6, are now in first place of the sickening NFC West.
***It was just like old times Sunday: Jake Delhomme threw two interceptions (including an inexcusable pick-six to Captain Munnerlyn) and managed to give the Panthers a loss.
***What are the odds that Chris Johnson's worst game as a pro (seven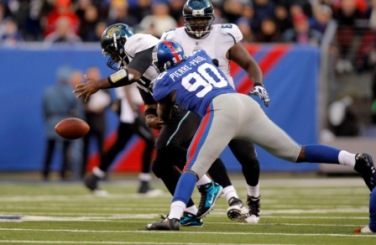 carries for five yards) would come in sixth-round rookie quarterback Rusty Smith's starting debut? The Titans ran just 44 plays Sunday (32 less than the Texans).
***Arian Foster carried the ball 30 times for 143 yards. He's been by far the best running back in the AFC this season.
***The best part about Shaun Smith's touchdown run for the Chiefs was Pete Carroll's dumbfound expression after it.
***Speaking of Carroll, what the hell was he doing calling timeouts as the Chiefs were extending the courtesy of kneeling on the ball with a 42-24 lead?
***Don't know how I got all the way to Quick Hits before mentioning the Jaguars-Giants game….I watched virtually this entire contest and loved every minute of it. The game, in a nutshell, was this: Jaguars dominated on the ground in the first half and David Garrard played well because of it. In the second half, the Giants forced the Jags to play more through the air. Garrard suddenly became shaky in protecting the football, and ultimately New York's dynamic front four was too much for Jacksonville. That's the game in a nutshell. And, come to think of it, that's probably the 2010 Jaguars in a nutshell, too.
***The best one-on-one matchup Sunday may have been Ravens wideout Derrick Mason against Bucs corner Aqib Talib. On the mano-a-mano front, I'd say the youngster got the better of this one (how about Talib's interception between the knees, huh?). But from an all-encompassing standpoint, the nod obviously goes to Mason. He led all players with 87 yards on eight catches, including an important touchdown out of the slot in front of coverage liability Sean Jones.
***If the Raiders weren't blacked out all the time, everyone would be talking about rookie receiver/kick returner Jacoby Ford. He's one of the most explosive big-play creators in the NFL. He had his second kick return for a touchdown Sunday, and he added another score in going over 100 yards receiving.
***The best part about Sunday was that there were six early window games and five late window games. Why can't we get that kind of scheduling balance every week?


For more NFL news, rumors and analysis, follow @cbssportsnfl on Twitter and subscribe to our RSS Feed .