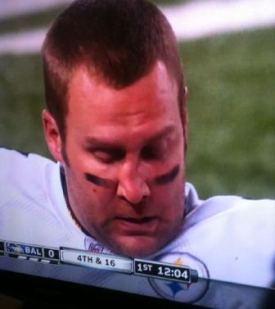 Posted by Josh Katzowitz
The first series for the
Ravens
and
Steelers
offenses did not end well for either team.
On the final play for Pittsburgh, Baltimore NT
Haloti Ngata
sacked QB
Ben Roethlisberger
, but while doing so, his left hand made contact with Roethlisberger's facemask (no penalty was called).
By time Roethlisberger made it back to his feet, blood poured from his nose, and his appendage looked more crooked than we remember it (for a look at the new schnozz,
click here)
.
On the next series, though, Roethlisberger – who's also playing with a bad foot – returned to the field.
For the Ravens, the first offensive play of the game was a disaster. As TE
Todd Heap
ran a fly route, he sustained a hamstring injury. He immediately limped to the sidelines, and according to reports, Heap is out for the game.

Photo at right courtesy of thedutchmaster3 .
For more NFL news, rumors and analysis, follow @cbssportsnfl on Twitter and subscribe to our RSS Feed .