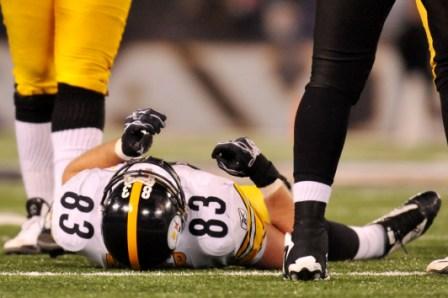 Posted by Josh Katzowitz
Despite the detailed instructions and the diagrams and the variety of explanations and the tutorials, many of us still don't understand the newly-reinforced helmet-to-helmet and defenseless receiver rules.
Why are some hits called and not others? What about the helmet-to-chest hits on a quarterback who just threw the ball? Is he defenseless? Can the defender led with his facemask? With the crown of his helmet? What if it's below the waist?
I suppose some people have a handle on the rules, but there are times when I'm not sure if anybody knows what the hell is supposed to be called. Like, um, the dudes wearing the stripes during tonight's
Ravens
-Steelers game.
Last Sunday, I got into a discussion with a
Steelers
fan on Twitter about why
James Harrison
was penalized for his illegal hit on
Bills
quarterback
Ryan Fitzpatrick
.
He claimed Harrison hit Fitzpatrick in the upper chest, and his helmet slid into Fitzpatrick's chin. I countered that it was head-to-chin all the way.
He claimed there was a bias against the Steelers. I countered that the officials were giving Harrison more scrutiny – based on his reputation, why wouldn't they? – but that ultimately Pittsburgh was treated the same as everybody else.
We went back and forth probably 10 or 12 times.
This week, owner Art Rooney II got into the act, saying he thought the NFL looked at the Steelers differently. I still vehemently disagree, even after tonight's 13-10 Pittsburgh win against the Ravens when Roethlisberger was hit in the helmet twice with no flag thrown.
But what I'll continue to question is why every game is called differently. And I believe this: if Harrison had destroyed the Ravens TE, instead of Baltimore's
Jameel McClain
leveling Steelers TE
Heath Miller
on what was CLEARLY a helmet-to-helmet hit, Harrison would have been ejected, fined and suspended.
But with McClain, a yellow flag was not thrown. I'll repeat that: when McClain gave us an absolute clinic on what is an illegal hit – there's very little doubt this play will show up on the video that officials present to teams during next year's training camps – and what should be penalized.
Instead, Miller crumpled to the turf in a frightening manner, and he later walked off the field with a concussion. And a 15-yard penalty was not called.
Minutes afterward, while the game was still in the third quarter, word began to leak out. NFL officials made sure to let everyone know that a penalty should have been called and that a mistake had been made. But the flag wasn't thrown. And frankly, it wasn't fair.
I understand the argument that players move at warp speed, and they can't always control how they're hitting an opponent. Mistakes happen. I get that. But the rule is the rule, and the penalties need to be enforced equally across the board.
I'm sure Harrison would agree.
"It was a hit that should have been penalized," Harrison told NBC after the game. "Nine times out of 10, if you put me on that hit, a flag goes up and I'm fined."
At the very least.
For more NFL news, rumors and analysis, follow @cbssportsnfl on Twitter and subscribe to our RSS Feed .