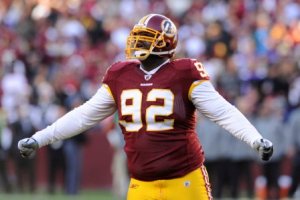 Posted by Josh Katzowitz
Apparently, Comcast SportsNet in Washington reported that
Redskins
DT
Albert Haynesworth
, who was deactivated last Sunday vs. the
Giants
because he missed practice last week (the word is that Haynesworth was sick), was out on the town late Thursday night and that he appeared hung over Friday.
Not surprisingly, Haynesworth didn't appreciate that analysis.
"For these people to make up lies to try to make me look bad is ridiculous," Haynesworth told 106.7 The Fan's Kevin & Rock show, via the
Washington Post
. "I think they are cowards, and if they have something to say, they should come to my face, not run to the media and try to blast me behind my back.
"There are some kind of haters or something like that in the organization, that they don't like me. I don't know if it's players or coaches. I don't know who it is. Obviously, there's somebody who doesn't like me, which is fine. But when you go out there and start making up lies, I've got something to say."
Haynesworth, as we've documented ad nauseam, doesn't exactly have a sympathy card to play. He's vastly overpaid, and he's vastly underperformed. He came into camp out of shape, and though he's played better lately, his lack of desire and lack of execution in adjusting to the team's new 3-4 defense have been striking.
But to accuse a guy of being hung over without substantial proof, that's not what we call journalistically sound.
For more NFL news, rumors and analysis, follow @cbssportsnfl on Twitter and subscribe to our RSS Feed .