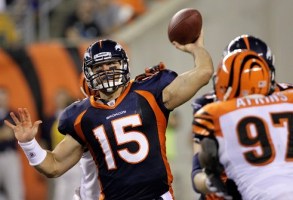 Posted by Will Brinson
On Wednesday, the Florida Gators announced that Urban Meyer stepped down as head coach of the Florida Gators. Needless to say, his tenure there was spectacular -- two national titles and an unbelievable run with
Tim Tebow
under center.
Which brings us to the NFL side of things, since the Denver
Broncos
, the team that happens to have Tebow under contract, are currently seeking a full-time coach who can restore their franchise to glory
after they canned Josh McDaniels on Monday
.
This is obviously pure speculation, because there are tons of reasons it wouldn't make sense. Namely, college coaches typically fail in the NFL. Additionally, Meyer, for all of his success in the college ranks, has no experience in the NFL, which certainly plays against the notion that the Broncos would want to hire a coach with experience reviving a program.
On the other hand, having Tebow on the roster
makes for an unpleasant scenario for most coaches
-- it seems pretty likely that other executives would have used that 25th overall pick in 2010 differently. Meyer, presumably, would have no problem convincing himself that he could help Tebow succeed at the next level (even if logic says that Tebow can't be a great NFL quarterback).
Next, take a look at the success the Broncos have had this year, which has come only offensively: it's primarily based on McDaniels system allowing
Kyle Orton
and a rag-tag-but-talented group of wide receivers to succeed. Meyer could easily believe that his own system could achieve the same success.
Would Meyer demand personnel control in Denver? Likely not, given this would be his first run in the NFL as a head coach, and that could be one of the sticking points for Denver going forward, because of McDaniels' inability to properly manage personnel.
There's no obvious John Elway/Pat Bowlen/Joe Ellis connection here, so the speculation for putting Urban Meyer as the new head coach of the Denver Broncos revolves entirely around the fact that less than 48 hours after Tim Tebow's boss was fired, Meyer suddenly (and quite unexpectedly) resigned from his post at Florida.
This was his second resignation, so it's as if it wasn't some sort of possibility of him leaving the Gators. And --
as my college colleague Adam Jacobi wrote
-- if Meyer's in bad shape health-wise (again) it seems pretty unlikely that he would leave for an NFL job.
But the timing of the moves are begging for some speculation as to whether or not Meyer could succumb to the lure of coaching Tebow again.
For more NFL news, rumors and analysis, follow

@cbssportsnfl

on Twitter and subscribe to our
RSS Feed
.