Posted by Will Brinson
By the time you're reading this, the words "
Sal Alosi
" will be trending on Twitter. That's because
Sal Alosi is the name of
the
Jets
coach who tripped the
Dolphins
'
Nolan Carroll
during Sunday's game.
Alosi, a strength and conditioning coach in his fourth year with the Jets, stuck his leg out and took Carroll down, as you can see below.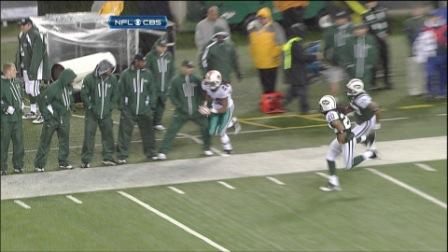 "The team is reviewing the situation and looking into the appropriate next steps," a Jets spokesperson told members of the media.
Originally, the Jets took Alosi was
"ushered away under security"
but the team eventually confirmed he was the guilty party.
Dolphins players
didn't take the whole thing too well either
.
"That is so dirty," Dolphins linebacker
Karlos Dansby
said, before nominating the play for Monday night's "Come on, MAN!" segment.
"They're cheaters -- they do what they do,"
Channing Crowder
said. "They cheat and talk junk and they do all that stuff but we beat the hell out of them today. I tell you the truth, I would have broke that old man's leg."
Carroll himself said he wasn't mad and declined to comment on it (and, seriously,
go watch Jeff Darlington's "Miami Minute"
with all these quotes. They're hysterical.)
Of course, the Jets have plenty more to fix than just dirty strength and conditioning coaches on the sideline, as CBS Sports' Ian Eagle and Dan Fouts point out below.