Posted by Andy Benoit

The
Redskins
didn't wait until the final two minutes of a close game to throw their "franchise quarterback" under the bus this week: according to
Kelli Johnson of Comcast Sports Net
,
Rex Grossman
is getting the starting nod over
Donovan McNabb
against the
Cowboys
.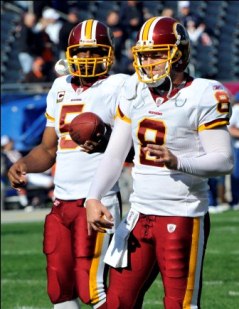 Grossman and McNabb have been splitting the first team reps in practice the past two weeks or so. It is believed that Redskins offensive coordinator Kyle Shanahan thinks Grossman has a better grasp of the system (Grossman played for Shanahan in Houston last season).
For the Redskins, this is a potential nightmare that could make the Haynesworth fiasco look trivial in comparison. Johnson reports that several players are "extremely upset" and that the locker room is divided.
Jason La Canfora of NFL.com
says many players believe Kyle Shanahan (and, one would assume, Mike Shanahan, as well) has lost credibility because he is using McNabb as a scapegoat. The Redskins offense ranks 27th in scoring.
In November, McNabb signed what was believed to be a long-term megadeal with the Redskins. However, the media later discovered that Washington would be on the hook for just $3.75 million if McNabb was cut after the 2010 season. That scenario now looks likely.
Replacing any quarterback with the turnover-prone Grossman is a move that speaks volumes about the quarterback being replaced. In other words, the Skins aren't turning to Grossman because they like his potential; they're turning to Grossman because they no longer respect McNabb's game.
The backlash from this move, particularly if Grossman struggles, is going to be monumental. Word is Mike Shanahan was utterly ill-prepared to face the scrutiny after benching McNabb against Detroit. Shanahan is not ill-prepared this time. He wouldn't open Pandora's box if he thought McNabb was going to be in Washington next season.
For McNabb, whose 77.5 passer rating ranks 25th in the NFL, the discussion now focuses on which team will sign him in 2011. One has to figure the Arizona
Cardinals
will be at the forefront of that discussion.
For more NFL news, rumors and analysis, follow

@cbssportsnfl

on Twitter and subscribe to our
RSS Feed
.