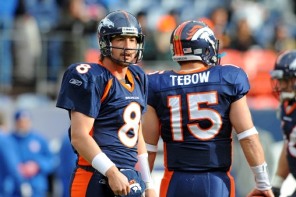 Posted by Will Brinson
Lost in all the
Tim Tebow
hype over the past week or so are the feelings of one
Kyle Orton
, who performed admirably as the starting quarterback for the Denver
Broncos
,
before being benched for the Chosen One in Week 15
.
Orton, not surprisingly, isn't happy about how things went down.
"I'd love to play it out,"
Orton said per Jeff Legwold of The Denver Post
. "It wasn't my decision. There was nothing I could do.
The way it was presented to me was [Tebow will] be the starter the rest of the season and that's just how it goes."
There's an obvious reason for Tebow starting -- the Broncos want to see what they have in the rookie before heading into 2010.
It didn't particularly seem like the smartest decision, but it's hard to argue with Tebow's production against the
Raiders
. And given the possibility that he could put pretty good numbers against a poor
Texans
pass defense on Sunday, it's highly likely that the former first-rounder could end up seeing a spike in value both for Denver and any other organization that might be interested in acquiring his talents.
Winning games is the ultimate end goal for any team, obviously, but the Broncos are eliminated anyway, and it's not as if Orton's record as a starter (although it wasn't necessarily his fault) this year was worth completely sitting on Tebow for the rest of the season.
Plus, we can't ever forget that the NFL is a business, and if you're selling Tim Tebow jerseys, well, business is good right now. With Broncos fans clamoring to see the guy they shelled out big merchandise cash for, it's even more explicable that Denver wants to put him on the field.
For more NFL news, rumors and analysis, follow

@cbssportsnfl

on Twitter and subscribe to our
RSS Feed
.