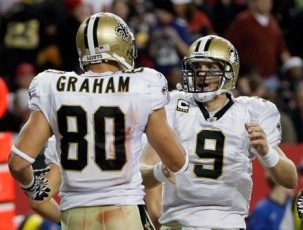 Posted by Josh Katzowitz
ATLANTA – In the immediate aftermath of the
Falcons
17-14 loss to the
Saints
on Monday night, an interesting debate arose about coach Mike Smith's decision to punt on fourth and six from the Atlanta 43 with 2:52 to play, his team holding two timeouts and losing by three points.
Personally, I liked the decision. The Falcons defense had been whipping the Saints offensive line for most of the game and
Drew Brees
hadn't played extraordinarily well. Atlanta fans seemed upset at the move, but I didn't mind it all.
That's not how Brian Burke of the
NY Times
saw it. This morning, he wrote that, stastically, it made sense for the Falcons to take their chances and go for the first down.
From the Times:

The conversion attempt would have been the percentage play, by a margin of 0.23 to 0.15 (in Win Probability). One way to think of it is that the Falcons' decision to punt lopped between a third and a half off their chance of winning. …

I also think game-specific considerations would tend to favor going for the conversion and keeping the ball out of Drew Brees's hands. Normally offenses ahead in that situation are very reluctant to do anything but run straight ahead, making them predictable and easy to stop. But the Saints trust Brees to make completions.
He makes a good point about Brees' ability. The Saints ended up converting two first downs and running out the clock, and in part, that was because Brees completed seven-yard passes to TE
Jimmy Graham
and RB
Pierre Thomas
that gave New Orleans second-and-short and third-and-short situations in which Thomas could run for the first down with ease.
Smith, though, thought he made the right call.
"Definitely thought it was the right thing to do," Smith said. "On fourth and six, we felt like the way we'd been playing defensively, and we had two timeouts and we hopefully could wrap one around the two-minute warning. Unfortunately, we didn't get it done there at the end."
The problem, I think, was that the Falcons defense seemed to tire a little, because suddenly, the New Orleans offensive line began picking up the Atlanta front four with relative ease.
"I think it was a little bit of that (fatigue)," DE
Jamaal Anderson
said. "But they're the Super Bowl champions. They know what to do in those situations. They rally."
And though I don't think Smith made a bad decision, the Saints took advantage of a conservative play-call that might have cost his team a chance to win the game. Thus, he opens himself up to the easy second-gues.
For more NFL news, rumors and analysis, follow @cbssportsnfl on Twitter and subscribe to our RSS Feed .